Secret Clinton WH tapes mysteriously vanish
by: George Washington By LU Staff
Ask any liberal, and he'll tell you that the worst insult you can heap on any President is comparing him to Richard Nixon. Meet the newest inductee to the Nixon Missing Tapes Hall of Fame — the still-much-beloved of liberals Bill "Bubba" Clinton.
Among the thousands of pages of documents released by the

Clinton Library

recently, two had this tantalizing notation at the top: "Tape One, Side One."

That stamp appeared on transcripts of two conversations Bill Clinton had behind closed doors with aides inside the Oval Office. They included the president's ribald remarks on race,

frank talk about gays

, and even how to prepare for Y2K. And they were captured on cassette tapes.
Might we hear Clinton in his famous Arkansas twang musing that Rep. Tom DeLay was "probably" to blame for the notorious dragging death of a black man? Could we hear Clinton admit that talking about gays caused his poll numbers to drop? Or that he wishes he could advise Americans to buy shotgun shells before the millennium?
The answer, sadly (albeit somehow unsurprisingly), is no. When ABC News requested copies of the tapes, officials at the Clinton Library said they couldn't find them. A library official named Diane LeBlanc wrote in an email to ABC:
The creation of this particular audio tape, its use, and any transcription [aides] chose to make were all done by White House staff prior to the transfer of Clinton Presidential records to NARA [the National Archives and Records Administration], and as such we simply don't know much more than what can be found by searching the holdings as our Archival staff has done.
But at least there are transcripts, and as anyone can tell you, White House transcripts are the next best thing to being there. These documents can't be doctored (right!).
Nevertheless at least one of the transcripts seems to be the authentic rough cut. In it, Clinton is wrestling with the question of whether to mention the beating death of Matthew Shepard, a gay man, in a speech he is planning. He reveals to his aides (on paper) that, according to his pollster, his "numbers go down" every time he mentions gays in a speech.
http://www.conservativeinfidel.com/uncategorized/secret-clinton-wh-tapes-mysteriously-vanish/
Bill Clinton identified in lawsuit against his former friend and pedophile Jeffrey Epstein who had 'regular' orgies at his Caribbean compound that the former president visited multiple times
* The former president was friends with Jeffrey Epstein, a financier who was arrested in 2008 for soliciting underage prostitutes
* A new lawsuit has revealed how Clinton took multiple trips to Epstein's private island where he 'kept young women as sex slaves'
* Clinton was also apparently friends with a woman who collected naked pictures of underage girls for Epstein to choose from
* He hasn't cut ties with that woman, however, and invited her to Chelsea's wedding
* Comes as friends now fear that if Hillary Clinton runs for president in 2016, all of their family's old scandals will be brought to the forefront
* Epstein has a host of famous friends including Prince Andrew who stayed at his New York mansion AFTER his arrest
By DAILY MAIL REPORTER
PUBLISHED: 09:06 EST, 19 March 2014 | UPDATED: 14:06 EST, 19 March 2014
A new lawsuit has revealed the extent of former President Clinton's friendship with a fundraiser who was later jailed for having sex with an underage prostitute.
Bill Clinton's relationship with Jeffrey Epstein, who served time in 2008 for his illegal sexual partners, included up multiple trips to the onetime billionaire's private island in the Caribbean where underage girls were allegedly kept as sex slaves.
The National Enquirer has released new details about the two men's friendship, which seems to have ended abruptly around the time of Epstein's arrest.
Naming names: A lawsuit between Jeffrey Epstein (right, in 2011) and his legal team has included multiple mentions about the convicted pedophile's connection to former President Bill Clinton (left, earlier this month)
Pedophile paradise: The lawsuit included flight records that showed Clinton made multiple trips to Epstein's private island, Little St James (pictured), between 2002 and 2005. Women were reportedly kept there as sex slaves
Tales of orgies and young girls being shipped to the island, called Little St. James, have been revealed as part of an ongoing lawsuit between Epstein and his former lawyers Scott Rothstein and Bradley Edwards.
It is unclear what the basis of the suit is, but they go on to call witness testimony from some of the frequent guests at Epstein's island to talk about the wild parties that were held there in the early 2000s.
Convicted: Epstein was investigated in 2005 after a woman reported that he paid her 14-year-old daughter for sex
Flight logs pinpoint Clinton's trips on Epstein's jet between the years 2002 and 2005, while he was working on his philanthropic post-presidential career and while his wife Hillary was a Senator for their adopted state of New York.
'I remember asking Jeffrey what's Bill Clinton doing here kind fo thing, and he laughed it off and said well he owes me a favor,' one unidentified woman said in the lawsuit, which was filed in Palm Beach Circuit Court.
The woman went on to say how orgies were a regular occurrence and she recalled two young girls from New York who were always seen around the five-house compound but their personal backstories were never revealed.
At least one woman on the compound was there unwillingly, as the suit identifies a woman as Jane Doe 102.
She 'was forced to live as one of Epstein's underage sex slaves for years and was forced to have sex with... politicians, businessmen, royalty, academicians, etc,' the lawsuit says according to The Enquirer.
Epstein's sexual exploits have been documented since 2005, when a woman in Palm Beach contacted police saying that her 14-year-old daughter had been paid $300 to massage him and then have sex.
The claim prompted a nearly year-long investigation that led to the eventual charge of soliciting prostitution which came as part of a plea deal. He spent 13 months of a 18-month sentence in jail and remains a registered sex offender.
Michelle Obama's secret weapon in Beijing – her own mother: First Lady to deploy 'grandma diplomacy' to help win over Chinese
Several of his famous friends cut ties- including Clinton and then-New York Governor Eliot Spitzer who returned his campaign donations- but not all of them: Prince Andrew reportedly stayed at Epstein's mansion in New York in 2010, months after he was released from jail.
Keeping ties: Clinton was also friends with an unnamed woman who stored pictures of underage girls for Epstein, and though Clinton cut ties with Epstein after his arrest, he invited the woman to Chelsea's 2010 wedding
Clinton's connection to Epstein, who worked as a financier and education philanthropist before more than 40 women came forward with claims about him being a sexual predator, has been long-established, but The Enquirer also tells how the former president was also friends with some of Epstein's seedy acquaintances.
The lawsuit claims that Clinton was friends with an unnamed woman who 'kept images of naked underage children on her computer, helped to recruit underage children for Epstein... and photographed underage females in sexually explicit poses'.
While he cut off ties with Epstein, this woman's abuses apparently did not end their relationship as she was reportedly one of the 400 guests at Chelsea Clinton's 2010 wedding.
Latest ladies: Clinton was pictured posing for a photo with Barbie Girl (left) and Ava Adora (right), two known prostitutes who work at the Bunny Brothel in Nevada
Though the lawsuit may be bringing up sexual skeleton's from Clinton's past, he has added to the drama of late by posing for a photo with two known prostitutes at a fundraiser in Los Angeles last month.
The drama of his extramarital affairs is apparently just one concern for Clinton family loyalists, as a Wall Street Journal article released today details how
'I'm not in the political camp; I'm in the friends camp. And the friends camp definitely has concerns about her running,' the former Secretary of State's friend Linda Bloodworth-Thomason told the paper,
Read more: http://www.dailymail.co.uk/news/article-2584309/Bill-Clinton-identified-lawsuit-against-former-friend-pedophile-Jeffrey-Epstein-regular-orgies-Caribbean-compound-former-president-visited-multiple-times.html#ixzz2wVJmLX1B
The Hillary Papers
Archive of 'closest friend' paints portrait of ruthless First Lady
BY: Alana Goodman - February 9, 2014 - Freebeacon.com
On May 12, 1992, Stan Greenberg and Celinda Lake, top pollsters for Bill Clinton's presidential campaign, issued a confidential memo. The memo's subject was "Research on Hillary Clinton."
Voters admired the strength of the Arkansas first couple, the pollsters wrote. However, "they also fear that only someone too politically ambitious, too strong, and too ruthless could survive such controversy so well."
Their conclusion: "What voters find slick in Bill Clinton, they find ruthless in Hillary."
The full memo is one of many previously unpublished documents contained in the archive of one of Hillary Clinton's best friends and advisers, documents that portray the former first lady, secretary of State, and potential 2016 presidential candidate as a strong, ambitious, and ruthless Democratic operative.
The papers of Diane Blair, a political science professor Hillary Clinton described as her "closest friend" before Blair's death in 2000, record years of candid conversations with the Clintons on issues ranging from single-payer health care to Monica Lewinsky.
The archive includes correspondence, diaries, interviews, strategy memos, and contemporaneous accounts of conversations with the Clintons ranging from the mid-1970s to the turn of the millennium.
Diane Blair's husband, Jim Blair, a former chief counsel at Tyson Foods Inc. who was at the center of "Cattlegate," a 1994 controversy involving the unusually large returns Hillary Clinton made while trading cattle futures contracts in the 1970s, donated his wife's papers to the University of Arkansas Special Collections library in Fayetteville after her death.
The full contents of the archive, which before 2010 was closed to the public, have not previously been reported on and shed new light on Clinton's three decades in public life. The records paint a complex portrait of Hillary Clinton, revealing her to be a loyal friend, devoted mother, and a cutthroat strategist who relished revenge against her adversaries and complained in private that nobody in the White House was "tough and mean enough."
THE SEX FILES
On July 28, 1997, President Clinton was facing yet another wave of allegations from yet another woman. Kathleen Willey had accused Clinton of sexually assaulting her, and Blair faxed a Drudge Report item about her claims to one of the president's aides.
Blair's handwritten note attached to the story: "Do we take Matt Drudge seriously?"
Six months later, Drudge would break the story of an affair between Clinton and 22-year-old White House intern Monica Lewinsky, setting in motion the events that would lead to the president's impeachment.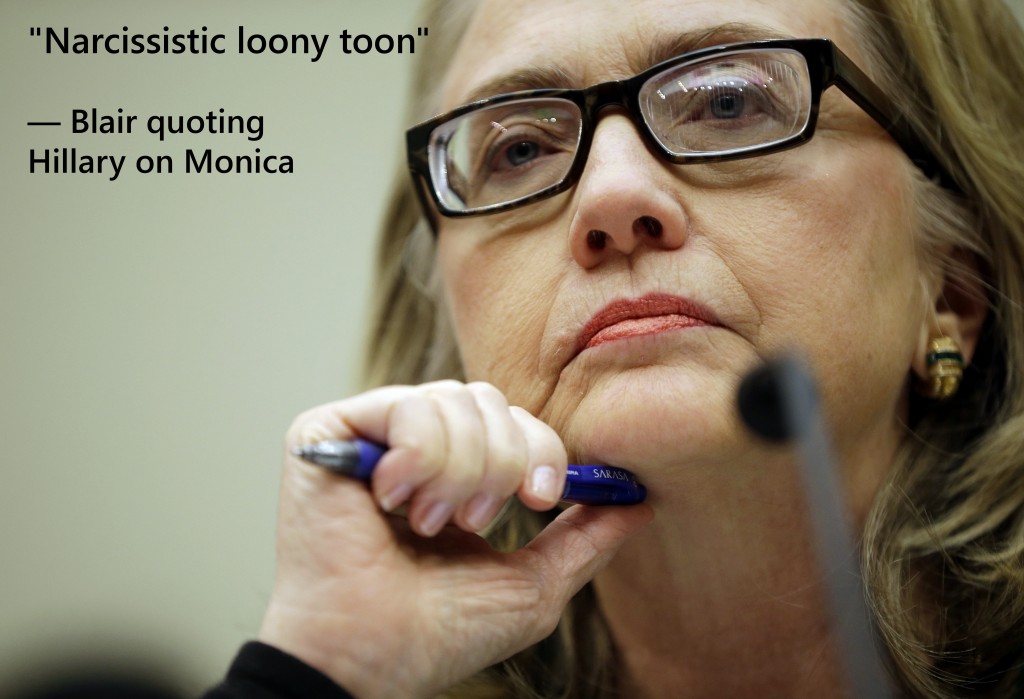 When Clinton finally admitted to the relationship after repeated denials, Hillary

Clinton defended her husband in a phone call with Blair. She said her husband had made a mistake by fooling around with the "narcissistic loony toon" Lewinsky, but was driven to it in part by his political adversaries, the loneliness of the presidency, and her own failures as a wife.
She told Blair that the affair did not include sex "within any real meaning" of the term and noted President Clinton "tried to manage" Monica after they broke up but things spiraled "beyond control."
Blair described the contents of the Sept. 9, 1998, phone call in a journal entry.
"[Hillary] is not trying to excuse [Bill Clinton]; it was a huge personal lapse. And she is not taking responsibility for it," Blair wrote.
"But, she does say this to put his actions in context. Ever since he took office they've been going thru personal tragedy ([the death of] Vince [Foster], her dad, his mom) and immediately all the ugly forces started making up hateful things about them, pounding on them."
"They adopted strategy, public strategy, of acting as tho it didn't bother them; had to. [Hillary] didn't realize toll it was taking on him," Blair continued. "She thinks she was not smart enough, not sensitive enough, not free enough of her own concerns and struggles to realize the price he was paying."
Hillary Clinton told Blair she had received "a letter from a psychologist who does family therapy and sexual infidelity problems," who told the Yale Law School graduate, "most men with fidelity problems [were] raised by two women and felt conflicted between them."
The psychologist suggested that Bill's infidelity had its roots in his childhood.
"He'd read about Bill's bio; grandmother despised [Bill's mother] Virginia, tried to get custody of Bill; Bill adored by his mother, but she left him, etc. etc."
In her conversations with Blair, the first lady gave her husband credit for trying to end the affair with Lewinsky, and said he did not take advantage of his White House intern.
"It was a lapse, but she says to his credit he tried to break it off, tried to pull away, tried to manage someone who was clearly a 'narcissistic loony toon'; but it was beyond control," wrote Blair.
"HRC insists, no matter what people say, it was gross inappropriate behavior but it was consensual (was not a power relationship) and was not sex within any real meaning (standup, liedown, oral, etc.) of the term."
ALL THOSE WHINEY WOMEN
Hillary Clinton's blunt assessments were not confined to Monica Lewinsky. In a Dec. 3, 1993, diary entry, Blair recounted a conversation with the first lady about "Packwood"—a reference to then-Sen. Bob Packwood, an influential Republican on health care embroiled in a sexual harassment scandal.
"HC tired of all those whiney women, and she needs him on health care," wrote Blair. "I told her I'd been bonding w. creeps; she said that was the story of her whole past year. Fabio incident—sweeping her up, sending her roses."
Privately, the Clinton White House was acutely sensitive to public perceptions of President Clinton's treatment of women.
Supreme Court nominations were not immune from such considerations. In a three-page May 11, 1994, memo, Blair recounted her phone conversation with President Clinton about reservations he had about his preferred nominee to the high Court, the late Arkansas Judge Richard Arnold.
Noting Clinton allies had "really been trying to keep the women's groups in line since Paula Jones filing," Bill Clinton, according to Blair's account, was concerned feminist groups "might blow sky high" if he appointed Arnold to the Supreme Court. Arnold had ruled that the Jaycees club could bar women from full membership—a decision later overturned by the highest court in the land.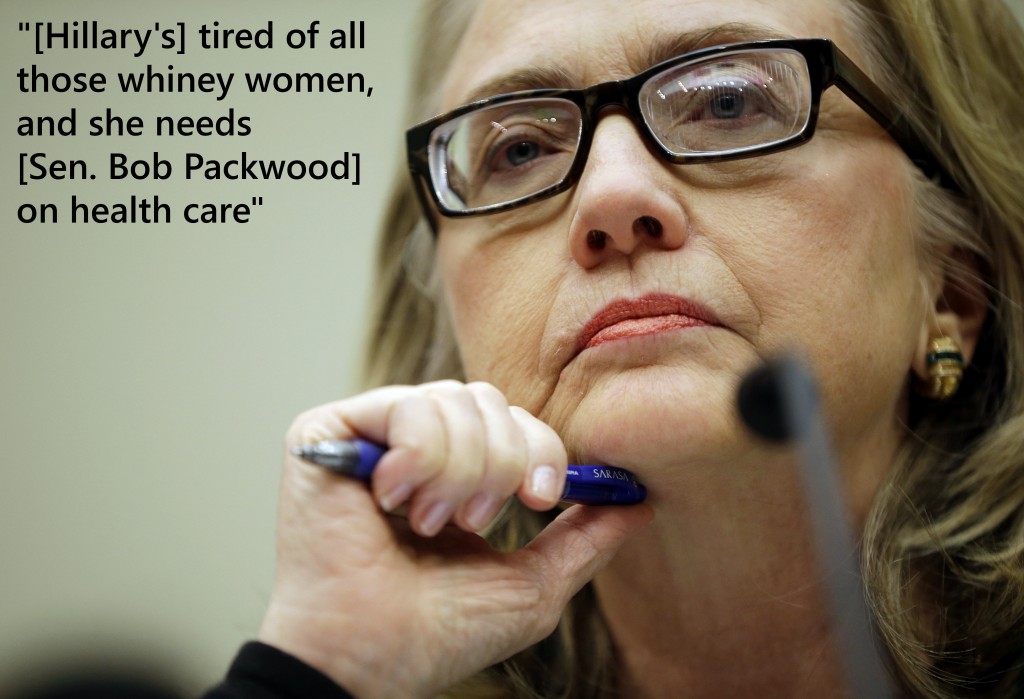 The president was also concerned about accusations of infidelity in Arnold's divorce records—allegations the president believed had the potential to reignite scrutiny of his own background.
"Stuff is in the [divorce] record—apparently includes other people—and no matter what Hatch says, this will come out, and will make it sound like the only friends [Bill] has in Arkansas are adulterers," wrote Blair.
"This thing is so sick, according to [Bill], in a way he wants to stand up to it, but will come out and will be part of the pattern of sleaze."
The president asked Blair to discuss the Arnold nomination with Hillary Clinton, who was dismissive of "grassroots" women's groups.
"[Bill] wanted me to talk to [Hillary], so we got plugged in (at one point had 2 White House operators trying to get me)," wrote Blair.
"[Hillary] listened to what I had to say re women; thought those grassroots groups didn't count for much; it was the DC groups who would be doing damage, and obviously [Hillary] concerned about [the] 'climate' because of the sexual harassment charge."
The Clinton camp found itself dealing with Bill Clinton's infidelity early on. In a confidential Feb. 16, 1992, memo entitled "Possible Investigation Needs," Clinton campaign staff proposed ways to suppress and discredit stories about the then-Arkansas governor's affairs.
Campaign operatives Loretta Lynch and Nancy McFadden wrote the memo, addressed to campaign manager David Wilhelm.
The first item on the itinerary discussed "GF," a reference to Gennifer Flowers, the actress and adult model who had recently disclosed her 12-year affair with Bill Clinton.
"Exposing GF: completely as a fraud, liar and possible criminal to stop this story and related stories, prevent future non-related stories and expose press inaction and manipulation," said the memo.
In 1998 Bill Clinton admitted he had had a sexual relationship with Flowers.
Another item, headlined "Women," referred to Elizabeth Ward and Lencola Sullivan, also rumored to have had relationships with Bill.
"Elizabeth Ward … determine attitude & check out background; Any Reep connections? When does Playboy come out?"
One of the documents in the Blair archive is an unsigned note from Bill Clinton, handwritten on the personal letterhead he used in the mid-1970s. The addressee is unknown. A cover page reads: "Tomorrow is Thursday."
The undated letter is written on the same

personal letterhead

that Clinton

was using

in 1976, prior to becoming attorney general of Arkansas. Hillary Rodham and Bill Clinton began dating in 1971 and were married on Oct. 11, 1975.
"Yesterday the recurring shakes came over me again and to rid myself of them I decided to go and buy something for you as much to be doing it as to actually wind up with things," Clinton wrote.
He said he recently had bought books, including One Hundred Years of Solitude by Gabriel Garcia Marquez and Bread and Wine by Italian anti-Communist Ignazio Silone.
"By the time I could call last night it was too late and I was too spent," the future founding chairman of the Clinton Global Initiative went on.
"Today is Thursday. I will be at the little place downstairs in the union at 11:30. If you aren't there, I'll understand. And if you are, I will."
The fast-food lover and amateur sax player closed by confessing that he had fallen asleep the night before while reading an erotic love poem from the seventeenth century.
"At 3:30 this morning I fell asleep over Andrew Marvell's To His Coy Mistress," wrote Clinton. "It has been a while since I could feel something so sharply across three hundred years."
Attached to the letter is a photo of a young Bill Clinton holding a saxophone, with the note, "I thought you might get a kick out of this—I was once even younger."
YOU ARE ENTERING A WORLD OF PAIN
Days after President Clinton's impeachment in 1998, the first lady called Blair in good spirits, telling her friend that, "Most people in this town have no pain threshold."
"[Hillary] sounded very up, almost jolly," wrote Blair. "Told me how she and Bill and Chelsea had been to church, to a Chinese restaurant, to a Shakespeare play, greeted everywhere with wild applause and cheers—this, she said is what drives their adversaries totally nuts, that they don't bend, do not appear to be suffering."
Hillary Clinton's "adversaries" included the media, Republicans, and top members of President Clinton's staff, according to a Washington Free Beacon analysis of the contents of the Blair archive.
"HC says press has big egos and no brains," wrote Blair on May 19, 1993, during the White House travel office controversy. "That [the White House is] just going to have to work them better; that her staff has figured it out and would be glad to teach [Bill's] staff."
The First Lady often confided in Blair about her "hellacious" first year in the White House, and her many clashes with staffers, administration figures, and her husband. By the spring of 1994, Hillary was "furious" at Bill for "ruining himself and the Presidency."
"She keeps trying to shape things up, knows what's wrong, but [Bill] can't fire people, exert discipline, punish leakers," Blair wrote on May 17, 1994. "Never had strategy for Whitewater, troopers, Paula [Jones]. … Inability to organize, make tough choices, drives her nuts."
Blair, a frequent guest at the White House, recounted two nights in mid-March 1993 when President Clinton spoke on the "theme of being spied on, taped, watched, imprisoned."
"[Bill] told me last 2, 3 months hideously stressful, and has really never had a break since campaign," Blair wrote. "Said when he named [Warren] Christopher to [State Department], screwed up the transition."
The insularity of the Clinton White House was not lost on administration officials.
"Chat w. [Attorney General] Janet Reno," Blair wrote on April 24, 1993. "She concerned that [Hillary Clinton is] resenting her 'celebrity' status."
"Janet wants to connect w. HC; not communicate thru Carol Rasco," Blair added. "Finds HC a 'mask.'"
SINGLE-PAYER NECESSARY
On Feb. 23, 1993, Blair joined the Clintons for a family dinner at the White House. The subject of health care reform came up.
"At dinner, [Hillary] to [Bill] at length on the complexities of health care—thinks managed competition a crock; single-payer necessary
; maybe add to Medicare," Blair wrote.
The account is at odds with public statements by the former First Lady that she never supported the single-payer option.
In an interview with the New York Times as she ran for president in 2008, Hillary Clinton said she had never seriously considered adopting a single-payer system, in which the government, using funds appropriated from taxpayers, pays for all health care expenses.
"You know, I have thought about this, as you might guess, for 15 years and I never seriously considered a single payer system," said Clinton in the interview.
At the time of Blair's account, the First Lady recently had been appointed to the president's health care task force and had started her push for an insurance reform that hinged on the "

managed competition" model.
However, at the February 1993 dinner, the First Lady already seemed to regret her decision to take on health care reform.
"[Bill's] tenderly hugging and thanking [Hillary] for sucking up to all thos ego's nd taking all this shit [sic]," wrote Blair. "She's signaling him what a mess health care is, bu also, sweetly, 'Don't worry' [sic]."
By the spring, the First Lady seemed deeply anxious about the effort.
"[Hillary] adamant; [Bill] must devise new outside strategy; we're getting killed. Congress a bunch of whiners; no courage. Her health care plan will save billions in long run but will cost big $ up front. [Members of Congress] don't work; only 3 days a week; only care for re-election," wrote Blair. "[Bill] clearly not very happy w. his own crew and advisors. [Hillary] urging hard ball."
As the First Lady prepared to testify before Congress in September 1993, Blair wrote that "she's begun to see that they don't really care about the issues but want to feel they're part of the process. So she's slobbering over their 'craft' as she testifies."
Hillary Clinton's testimony is seen in retrospect as the high point of her failed health care campaign.
"The week may have been the pinnacle of her career as First Lady," wrote Carl Bernstein in his 2008 book Woman in Charge. "Hillary was making history, and there were comparisons on the floor of Congress to Martha Washington, Eleanor Roosevelt, and in one particularly tortured leap of logic, Abraham Lincoln."
REALIST HILLARY: THEY'VE BEEN KILLING EACH
OTHER FOR 900 YEARS
On April 21, 1993, during a speech at the opening reception for the United States Holocaust Memorial Museum in Washington, D.C., President Clinton drew parallels between the genocide in Bosnia and the Holocaust.
That same month, he met with top U.S. military officials, diplomats, and aid workers advocating for military action against the Serbian forces of Slobodan Milosevic.
At the time, however, Hillary Clinton was not on board with the use of deadly force. According to Blair's April 29, 1993 account, the First Lady said she "was very much against any intervention—had been killing each other for 900 yrs."
Blair later spoke with President Clinton in mid-May and gave him "messages a la [Hillary's] instructions: stop ruminating aloud re Bosnia."
The White House was under increasing pressure to address the atrocities in the Balkans. Yet the United States waited more than two years before taking military action.
Blair's papers are not the first indication that Hillary privately opposed U.S. intervention in Bosnia prior to 1995.
An unnamed friend of the Clintons told Newsweek in 1993 that the First Lady
"regards [Bosnia] as a Vietnam that would compromise health-care reform."
The author and controversialist Christopher Hitchens later
reported
a similar account from
then-Secretary of Defense Les Aspin.
Since leaving the White House, however, Hillary Clinton has said that she favored earlier intervention in the Balkans, decrying "

the tragic failures in Rwanda, early Bosnia, and up to now, the inadequate response in Darfur

"

in a 2005 speech to the United Nations.
SUPREME THWART
Hillary Clinton's influence on White House decisions went beyond policy, according to the Blair papers.
A three-page memo written by Blair on May 11, 1994, shows the First Lady privately urging President Clinton to reject his preferred 1994 candidate for the U.S. Supreme Court because of political considerations.
While Bill Clinton favored the late Arkansas Judge Richard Arnold, he and his wife had concerns about the judge's health.
Hillary Clinton also argued that rejecting Arnold would send a "message" to the judge's ally, Arkansas Democrat-Gazette publisher Walter Hussman, Jr., whose paper often printed unflattering stories about the Clintons.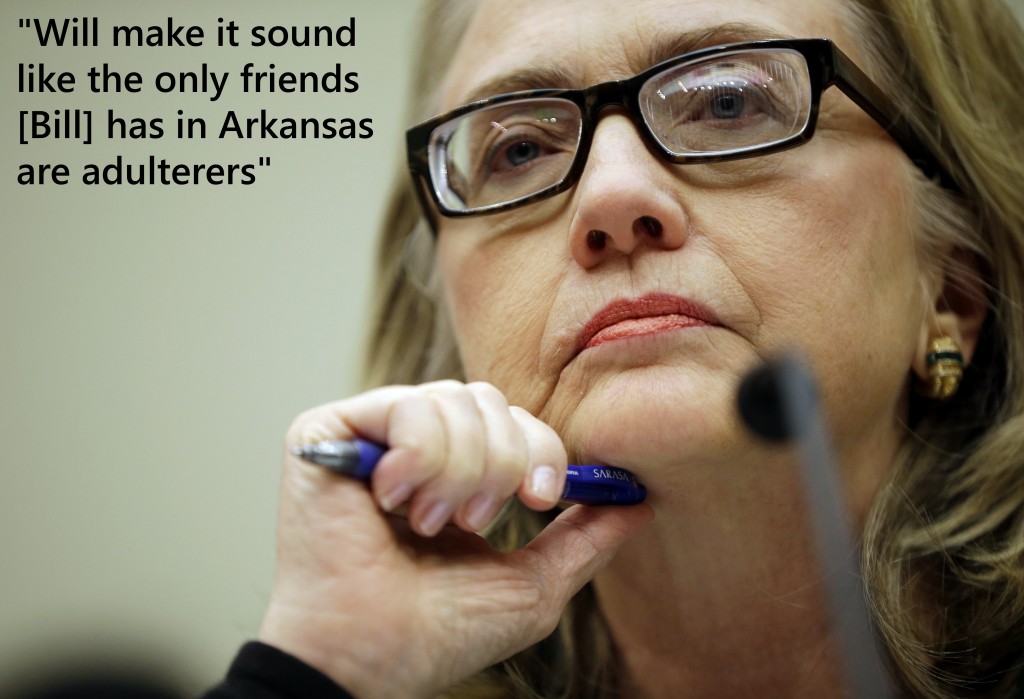 "Goddamn Hussman needs to know that it's his own goddamn fault; that he can't destroy everybody from Ark. and everything about the state and not pay the price for his precious Richard [Arnold]," Hillary said, according to Blair's account.
"He needs to get the message big-time, that Richard might have a chance [to be appointed to the Supreme Court] next round if Hussman and his minions will lay off all this outrageous lies and innuendo."
The details in Blair's memo challenge the contemporary understanding of Hillary Clinton's role in the debate over the 1994 appointment. The First Lady has been credited as one of the few members of the president's inner circle who lobbied in favor of Arnold's nomination.
However, that seems not to be the case.
President Clinton has said he did not appoint Arnold for health reasons. The judge had been diagnosed with advanced lymphoma, and according to the Blair memo his doctors could not guarantee he would live more than five years.
The health concerns were related to President Clinton's fear that Arnold could be his last Supreme Court appointment.
"At this point BC not sure he can get re-elected; they're killing him in the South, rise of fundamentalism, the Nazi's. Some of that he did to himself—gay rights in the military. Others just hate the one who's in," Blair wrote in an account of one of her conversations with the president.
According to the memo, Bill Clinton dispatched Blair to discuss the issue with Hillary, but the First Lady stood her ground.
"If HRC carried the day, and it sounds as if she is, [the nominee] will be [Bruce] Babbitt," wrote Blair. "She's not wild about him. Wishes there were a 3rd choice."
President Clinton ended up appointing Stephen Breyer, who became an associate justice of the Supreme Court in August 1994.
THE FUTURE IS NOW
As Hillary Clinton prepares for a possible 2016 presidential run, the Clinton team has a great incentive to focus on the future.
However, recent weeks have made it clear this will not be easy.
Sen. Rand Paul's remark about Bill Clinton's "predatory behavior" on a recent Sunday talk show generated a days-long media firestorm and reignited the decades-old Lewinsky controversy.
While Hillary Clinton has gone from the White House to the Senate to the State Department, experts say she will likely be forced to readdress some of the controversies that defined her husband's presidency if she decides on a 2016 bid.
Neither a Clinton spokesman nor a spokesman for the Clinton Foundation returned a request for comment from the Free Beacon on the materials contained in the Blair archive.
As the 2016 contest draws near, however, the contents of this little-known archive of one of the closest friends of the most famous woman in the world are sure to receive fresh scrutiny.
While thousands of Diane Blair's papers are available to the public at the University of Arkansas Library, an undisclosed number of documents remain kept in a restricted section of the archive. The Free Beacon was unable to gain access to those documents.
"With this collection, [Diane Blair's] contributions will grow and live on, enlarging our understanding of history, politics and culture," Hillary Clinton said in a video address at the opening of Blair's archive in 2010.
"I hope also that some young scholar will come along and write the story of Diane," she added. "We miss her still but this, along with so many of her contributions to us, lives on."
READ THE HILLARY PAPERS HERE
http://freebeacon.com/the-hillary-papers/
Hillary Clinton Fired For Lies, Unethical Behavior
I've decided to reprint a piece of work I did nearly five years ago, because it seems very relevant today given Hillary Clinton's performance in the Benghazi hearings. Back in 2008 when she was running for president, I interviewed two erstwhile staff members of the House Judiciary Committee who were involved with the Watergate investigation when Hillary was a low-level staffer there. I interviewed one Democrat staffer and one Republican staffer, and wrote two pieces based on what they told me about Hillary's conduct at the time.
I published these pieces back in 2008 for North Star Writers Group, the syndicate I ran at the time. This was the most widely read piece we ever had at NSWG, but because NSWG never gained the high-profile status of the major syndicates, this piece still didn't reach as many people as I thought it deserved to. Today, given the much broader reach of CainTV and yet another incidence of Hillary's arrogance in dealing with a congressional committee, I think it deserves another airing. For the purposes of simplicity, I've combined the two pieces into one very long one. If you're interested in understanding the true character of Hillary Clinton, it's worth your time to read it.
As Hillary Clinton came under increasing scrutiny for her story about facing sniper fire in Bosnia, one question that arose was whether she has engaged in a pattern of lying.
The now-retired general counsel and chief of staff of the House Judiciary Committee, who supervised Hillary when she worked on the Watergate investigation, says Hillary's history of lies and unethical behavior goes back farther – and goes much deeper – than anyone realizes.
Jerry Zeifman, a lifelong Democrat, supervised the work of 27-year-old Hillary Rodham on the committee. Hillary got a job working on the investigation at the behest of her former law professor, Burke Marshall, who was also Sen. Ted Kennedy's chief counsel in the Chappaquiddick affair. When the investigation was over, Zeifman fired Hillary from the committee staff and refused to give her a letter of recommendation – one of only three people who earned that dubious distinction in Zeifman's 17-year career.
"Because she was a liar," Zeifman said in an interview last week. "She was an unethical, dishonest lawyer. She conspired to violate the Constitution, the rules of the House, the rules of the committee and the rules of confidentiality."
HouseCommittee1974 Hillary Clinton fired for lies, unethical behavior
How could a 27-year-old House staff member do all that? She couldn't do it by herself, but Zeifman said she was one of several individuals – including Marshall, special counsel John Doar and senior associate special counsel (and future Clinton White House Counsel) Bernard Nussbaum – who engaged in a seemingly implausible scheme to deny Richard Nixon the right to counsel during the investigation.
Why would they want to do that? Because, according to Zeifman, they feared putting Watergate break-in mastermind E. Howard Hunt on the stand to be cross-examined by counsel to the president. Hunt, Zeifman said, had the goods on nefarious activities in the Kennedy Administration that would have made Watergate look like a day at the beach – including Kennedy's purported complicity in the attempted assassination of Fidel Castro.
The actions of Hillary and her cohorts went directly against the judgment of top Democrats, up to and including then-House Majority Leader Tip O'Neill, that Nixon clearly had the right to counsel. Zeifman says that Hillary, along with Marshall, Nussbaum and Doar, was determined to gain enough votes on the Judiciary Committee to change House rules and deny counsel to Nixon. And in order to pull this off, Zeifman says Hillary wrote a fraudulent legal brief, and confiscated public documents to hide her deception.
The brief involved precedent for representation by counsel during an impeachment proceeding. When Hillary endeavored to write a legal brief arguing there is no right to representation by counsel during an impeachment proceeding, Zeifman says, he told Hillary about the case of Supreme Court Justice William O. Douglas, who faced an impeachment attempt in 1970.
"As soon as the impeachment resolutions were introduced by (then-House Minority Leader Gerald) Ford, and they were referred to the House Judiciary Committee, the first thing Douglas did was hire himself a lawyer," Zeifman said.
The Judiciary Committee allowed Douglas to keep counsel, thus establishing the precedent. Zeifman says he told Hillary that all the documents establishing this fact were in the Judiciary Committee's public files. So what did Hillary do?
"Hillary then removed all the Douglas files to the offices where she was located, which at that time was secured and inaccessible to the public," Zeifman said. Hillary then proceeded to write a legal brief arguing there was no precedent for the right to representation by counsel during an impeachment proceeding – as if the Douglas case had never occurred.
The brief was so fraudulent and ridiculous, Zeifman believes Hillary would have been disbarred if she had submitted it to a judge.
Zeifman says that if Hillary, Marshall, Nussbaum and Doar had succeeded, members of the House Judiciary Committee would have also been denied the right to cross-examine witnesses, and denied the opportunity to even participate in the drafting of articles of impeachment against Nixon.
Of course, Nixon's resignation rendered the entire issue moot, ending Hillary's career on the Judiciary Committee staff in a most undistinguished manner. Zeifman says he was urged by top committee members to keep a diary of everything that was happening. He did so, and still has the diary if anyone wants to check the veracity of his story. Certainly, he could not have known in 1974 that diary entries about a young lawyer named Hillary Rodham would be of interest to anyone 34 years later.
But they show that the pattern of lies, deceit, fabrications and unethical behavior was established long ago – long before the Bosnia lie, and indeed, even before cattle futures, Travelgate and Whitewater – for the woman who is still asking us to make her president of the United States.
Franklin Polk, who served at the time as chief Republican counsel on the committee, confirmed many of these details in two interviews he granted me this past Friday, although his analysis of events is not always identical to Zeifman's. Polk specifically confirmed that Hillary wrote the memo in question, and confirmed that Hillary ignored the Douglas case. (He said he couldn't confirm or dispel the part about Hillary taking the Douglas files.)
To Polk, Hillary's memo was dishonest in the sense that she tried to pretend the Douglas precedent didn't exist. But unlike Zeifman, Polk considered the memo dishonest in a way that was more stupid than sinister.
"Hillary should have mentioned that (the Douglas case), and then tried to argue whether that was a change of policy or not instead of just ignoring it and taking the precedent out of the opinion," Polk said.
Polk recalled that the attempt to deny counsel to Nixon upset a great many members of the committee, including just about all the Republicans, but many Democrats as well.
"The argument sort of broke like a firestorm on the committee, and I remember Congressman Don Edwards was very upset," Polk said. "He was the chairman of the subcommittee on constitutional rights. But in truth, the impeachment precedents are not clear. Let's put it this way. In the old days, from the beginning of the country through the 1800s and early 1900s, there were precedents that the target or accused did not have the right to counsel."
That's why Polk believes Hillary's approach in writing the memorandum was foolish. He says she could have argued that the Douglas case was an isolated example, and that other historical precedents could apply.
But Zeifman says the memo and removal of the Douglas files was only part the effort by Hillary, Doar, Nussbaum and Marshall to pursue their own agenda during the investigation.
After my first column, some readers wrote in claiming Zeifman was motivated by jealousy because he was not appointed as the chief counsel in the investigation, with that title going to Doar instead.
Zeifman's account is that he supported the appointment of Doar because he, Zeifman, a) did not want the public notoriety that would come with such a high-profile role; and b) didn't have much prosecutorial experience. When he started to have a problem with Doar and his allies was when Zeifman and others, including House Majority Leader Tip O'Neill and Democratic committee member Jack Brooks of Texas, began to perceive Doar's group as acting outside the directives and knowledge of the committee and its chairman, Peter Rodino.
(O'Neill died in 1994. Brooks is still living and I tried unsuccessfully to reach him. I'd still like to.)
This culminated in a project to research past presidential abuses of power, which committee members felt was crucial in aiding the decisions they would make in deciding how to handle Nixon's alleged offenses.
According to Zeifman and other documents, Doar directed Hillary to work with a group of Yale law professors on this project. But the report they generated was never given to the committee. Zeifman believes the reason was that the report was little more than a whitewash of the Kennedy years – a part of the Burke Marshall-led agenda of avoiding revelations during the Watergate investigation that would have embarrassed the Kennedys.
The fact that the report was kept under wraps upset Republican committee member Charles Wiggins of California, who wrote a memo to his colleagues on the committee that read in part:
Within the past few days, some disturbing information has come to my attention. It is requested that the facts concerning the matter be investigated and a report be made to the full committee as it concerns us all.
Early last spring when it became obvious that the committee was considering presidential "abuse of power" as a possible ground of impeachment, I raised the question before the full committee that research should be undertaken so as to furnish a standard against which to test the alleged abusive conduct of Richard Nixon.
As I recall, several other members joined with me in this request. I recall as well repeating this request from time to time during the course of our investigation. The staff, as I recall, was noncommittal, but it is certain that no such staff study was made available to the members at any time for their use.
Wiggins believed the report was purposely hidden from committee members. Chairman Rodino denied this, and said the reason Hillary's report was not given to committee members was that it contained no value. It's worth noting, of course, that the staff member who made this judgment was John Doar.
In a four-page reply to Wiggins, Rodino wrote in part:
Hillary Rodham of the impeachment inquiry staff coordinated the work. . . . After the staff received the report it was reviewed by Ms. Rodham, briefly by Mr. Labovitz and Mr. Sack, and by Doar. The staff did not think the manuscript was useful in its present form. . . .
In your letter you suggest that members of the staff may have intentionally suppressed the report during the course of its investigation. That was not the case.
As a matter of fact, Mr. Doar was more concerned that any highlight of the project might prejudice the case against President Nixon. The fact is that the staff did not think the material was usable by the committee in its existing form and had not had time to modify it so it would have practical utility for the members of the committee. I was informed and agreed with the judgment.
Mr. Labovitz, by the way, was John Labovitz, another member of the Democratic staff. I spoke with Labovitz this past Friday as well, and he is no fan of Jerry Zeifman.
"If it's according to Zeifman, it's inaccurate from my perspective," Labovitz said. He bases that statement on a recollection that Zeifman did not actually work on the impeachment inquiry staff, although that is contradicted not only by Zeifman but Polk as well.
Labovitz said he has no knowledge of Hillary having taken any files, and defended her no-right-to-counsel memo on the grounds that, if she was assigned to write a memo arguing a point of view, she was merely following orders.
But as both Zeifman and Polk point out, that doesn't mean ignoring background of which you are aware, or worse, as Zeifman alleges, confiscating documents that disprove your argument.
All told, Polk recalls the actions of Hillary, Doar and Nussbaum as more amateurish than anything else.
"Of course the Republicans went nuts," Polk said. "But so did some of the Democrats – some of the most liberal Democrats. It was more like these guys – Doar and company – were trying to manage the members of Congress, and it was like, 'Who's in charge here?' If you want to convict a president, you want to give him all the rights possible. If you're going to give him a trial, for him to say, 'My rights were denied,' – it was a stupid effort by people who were just politically tone deaf. So this was a big deal to people in the proceedings on the committee, no question about it. And Jerry Zeifman went nuts, and rightfully so. But my reaction wasn't so much that it was underhanded as it was just stupid."
Polk recalls Zeifman sharing with him at the time that he believed Hillary's primary role was to report back to Burke Marshall any time the investigation was taking a turn that was not to the liking of the Kennedys.
"Jerry used to give the chapter and verse as to how Hillary was the mole into the committee works as to how things were going," Polk said. "And she'd be feeding information back to Burke Marshall, who, at least according to Jerry, was talking to the Kennedys. And when something was off track in the view of the Kennedys, Burke Marshall would call John Doar or something, and there would be a reconsideration of what they were talking about. Jerry used to tell me that this was Hillary's primary function."
Zeifman says he had another staff member get him Hillary's phone records, which showed that she was calling Burke Marshall at least once a day, and often several times a day.
A final note about all this: I wrote my first column on this subject because, in the aftermath of Hillary being caught in her Bosnia fib, I came in contact with Jerry Zeifman and found his story compelling. Zeifman has been trying to tell his story for many years, and the mainstream media have ignored him. I thought it deserved an airing as a demonstration of how early in her career Hillary began engaging in self-serving, disingenuous conduct.
Disingenuously arguing a position? Vanishing documents? Selling out members of her own party to advance a personal agenda? Classic Hillary. Neither my first column on the subject nor this one were designed to show that Hillary is dishonest. I don't really think that's in dispute. Rather, they were designed to show that she has been this way for a very long time – a fact worth considering for anyone contemplating voting for her for president of the United States.
By the way, there's something else that started a long time ago.
"She would go around saying, 'I'm dating a person who will some day be president,'" Polk said. "It was like a Babe Ruth call. And because of that comment she made, I watched Bill Clinton's political efforts as governor of Arkansas, and I never counted him out because she had made that forecast."
Bill knew what he wanted a long time ago. Clearly, so did Hillary, and her tactics for trying to achieve it were established even in those early days.
The Hillary Clinton Scandals: Volume 1
As Hillary Clinton begins her run up to the 2016 presidential election, we the American voting public would do well to stretch our brains for a moment and recall the myriad scandals that Hillary created during her years as Monica Lewinsky's boyfriend's wife. Vince Foster would approve.
"How fortunate for governments that the people they administer don't think." — Adolph Hitler
Health-Care Gate:

In 1997, federal judge Royce Lamberth levied $286,000 in sanctions against Bill Clinton's administration for "running amok" in a "cover-up" of Hillary Clinton's health-care task force. The scandal began when deputy White House counsel Vincent Foster made contradictory assertions about the first lady's job status, in an attempt to keep the work of the task force secret.Foster later committed suicide, and

a Secret Service agent saw Hillary Clinton's chief of staff, Margaret Williams, carry boxes of papers out of Foster's office before investigators showed up to seal it.
A report by the special prosecutor's office concluded that Foster had been suffering from clinical depression and "was involved in work related to a number of important and difficult issues," including controversial appointments and "litigation related to the Health Care Task Force; the dismissal of White House Travel Office employees and the ensuing fallout from that incident; the Clintons' tax returns (which involved an issue regarding treatment of the Clintons' 1992 sale of their interest in Whitewater); the Clintons' blind trust; liaison with the White House Usher's office over issues related to the White House Residence; and issues related to the Freedom of Information Act." The first lady was involved in all of these controversies.
Filegate:

The confidential FBI files of up to 900 former Reagan and Bush appointees were sent over to White House security chief Craig Livingstone. Deputy White House counsel William Kennedy, a close friend of Hillary Clinton's from their days at the Rose Law Firm, would frequently call up the FBI and have someone's files sent over on his say-so.

Then–FBI director Louis Freeh called it "an egregious violation of privacy."
Cattle-Futures Gate:

Hillary Clinton came under scrutiny when, during her tenure as first lady of Arkansas, she managed to turn a $1,000 investment in cattle futures into a profit of nearly $100,000 in only nine months. She claimed she had learned how to trade by reading the Wall Street Journal. Her broker had earlier been suspended from trading for a year after he was charged with manipulating the egg-futures market.
Travelgate:

In May 1993, Hillary Clinton wrote an infamous note demanding action to "get our people" into the White House Travel Office. Billy Dale, its director, and six of his employees were quickly fired on the basis of rumors that they had engaged in criminal conduct; the rumors were cooked up in part by a 25-year-old cousin of Bill Clinton's who wound up running the travel office.
Dale was indicted on charges of embezzling $88,000 from the office. Jurors took only two hours to acquit him of all charges. Hillary Clinton refused an interview request from the General Accounting Office about her role in the affair. The late New York Times columnist Bill Safire concluded after Travelgate that Hillary Clinton was "a congenital liar."
Whitewater Gate:

The tangled web of Bill and Hillary Clinton's Whitewater real-estate dealings in Arkansas prompted Attorney General Janet Reno to appoint a special prosecutor to investigate. Jim McDougal, a Clinton business partner who went to jail over Whitewater, famously

described

the Clintons as "sort of like tornadoes moving through people's lives."
First led by Robert Fiske, then by Ken Starr, the special prosecutor's office was deeply disturbed by the lack of candor from the Clintons when they were deposed under oath. Hickman Ewing, Starr's deputy, testified in court that after

he heard Hillary Clinton say "I don't recall" some 50 times in one deposition, he gave her an F grade for her truthfulness.
Billing-Records Gate:

The records of Hillary Clinton's clients at the Rose Law Firm in Arkansas were subpoenaed for years by investigators looking into Whitewater. They were finally discovered on a coffee table in the private quarters of the White House.

No one ever explained how they got there.
In March 2008, as Hillary Clinton was running for president, Jerry Zeifman — the chief counsel to the House Judiciary Committee at the time of Nixon's impeachment and a lifelong Democrat — expressed his profound disappointment with her work on the committee. Among her transgressions were lying, removing files from the committee offices without permission, and arguing that Nixon shouldn't be allowed any legal counsel before the committee. "I terminated her employment on the Nixon impeachment staff," he told me.

"My only regret was I had not reported her unethical practices to the appropriate bar associations. I could not recommend her for any subsequent position of public or private trust."
source – National Review
Detailing the U.S. government's involvement in illegal covert activities such as drug dealing, money laundering and arms trading.
These guys make the mafia look honest.

47 Different Deaths! All Friends of Bill and Hilary Clinton
Stephanie Manning

,

Yahoo! Contributor Network

Jan 8, 2008
Have you ever wondered what it would be like to be close, personal friends with the Clintons? The nice cars, big houses, and all the great things that go with a presidents income? After reading up on the Clinton's, I couldn't have been more wrong. I soon discovered that being a friends with the Clinton's could be a deadly situation. 47 of Bill and Hilary's friends are dead! Of those 47 friends, 12 of them were body guards. This list is more odd then the Kennedy curse. Seems as if friends of the Clinton's have received their own curse. Here is an appalling list of the 47 friends who have died.
1-James McDougal - Clinton 's convicted Whitewater partner died of an apparent heart attack, while in solitary confinement. He was a key witness in Ken Starr's investigation.
2 -Mary Mahoney - A former White House intern was murdered July 1997 at a Starbucks Coffee Shop in Georgetown . The murder happened just after she was to go public with her story of sexual harassment in the White House. 8 - Jerry Parks - Head of Clinton's gubernatorial security team in Little Rock . Gunned down in his car at a deserted intersection outside Little Rock . Park's son said his father was building a dossier on Clinton . He allegedly threatened to reveal this information. After he died the files were mysteriously removed from his house.
THE FOLLOWING PERSONS HAD INFORMATION ON THE IVES/HENRY CASE:
3- Vince Foster - Former White House counselor, and colleague of Hillary Clinton at Little Rock 's Rose Law firm. Died of a gunshot wound to the head, ruled a suicide.
4- Ron Brown - Secretary of Commerce and former DNC Chairman. Reported to have died by impact in a plane crash. A pathologist close to the investigation reported that there was a hole in the top of Brown's skull resembling a gunshot wound. At the time of his death Brown was being investigated, and spoke publicly of his willingness to cut a deal with prosecutors. The rest of the people on the plane also died. A few days later the air Traffic controller committed suicide.
5- C. Victor Raiser II- Raiser, a major player in the Clinton fund raising organization died in a private plane crash in July 1992.
6-Paul Tulley - Democratic National Committee Political Director found dead in a hotel room in Little Rock , September 1992. Described by Clinton as a "Dear friend and trusted advisor".
7-Ed Willey - Clinton fund raiser, found dead November 1993 deep in the woods in VA of a gunshot wound to the head. Ruled a suicide. Ed Willey died on the same day his wife Kathleen Willey claimed Bill Clinton groped her in the oval office in the White House. Ed Willey was involved in several Clinton fund raising events.
9-James Bunch - Died from a gunshot suicide. It was reported that he had a "Black Book" of people which contained names of influential people who visited prostitutes in Texas and Arkansas .
10-James Wilson - Was found dead in May 1993 from an apparent hanging suicide. He was reported to have ties to Whitewater.
11-Kathy Ferguson- Ex-wife of Arkansas Trooper Danny Ferguson, was found dead in May 1994, in her living room with a gunshot to her head. It was ruled a suicide even though there were several packed suitcases, as if she were going somewhere. Danny Ferguson was a co-defendant along with Bill Clinton i n the Paula Jones lawsuit. Kathy Ferguson was a possible corroborating witness for Paula Jones.
12-Bill Shelton - Arkansas State Trooper and fiancee of Kathy Ferguson. Critical of the suicide ruling of his fiancee, he was found dead in June, 1994 of a gunshot wound also ruled a suicide at the grave site of his fiancee.
13-Gandy Baugh - Attorney for Clinton 's friend Dan Lassater, died by jumping out a window of a tall building January, 1994. His client was a convicted drug distributor.
14-Florence Martin - Accountant & sub-contractor for the CIA, was related to the Barry Seal Mena Airport drug smuggling case. He died of three gunshot wounds.
15- Suzanne Coleman - Reportedly had an affair with Clinton when he was Arkansas Attorney General. Died of a gunshot wound to the back of the head, ruled a suicide. Was pregnant at the time of her death.
16-Paula Grober - Clinton 's speech interpreter for the deaf from 1978 until her death December 9, 1992. She died in a one car accident.
17-Danny Casolaro - Investigative reporter. Investigating Mena Airport and Arkansas Development Finance Authority. He slit his wrists, apparently, in the middle of his investigation.
18- Paul Wilcher - Attorney investigating corruption at Mena Airport with Casolaro and the 1980 "October Surprise" was found dead on a toilet June 22, 1993 in his Washington DC apartment.
19-Jon Pa rnell Walker - Whitewater investigator for Resolution Trust Corp. Jumped to his death from his Arlington , Virginia apartment balcony August15, 1993. He was investigating the Morgan Guaranty scandal.
20-Barbara Wise - Commerce Department staffer. Worked closely with Ron Brown and John Huang. Cause of death unknown. Died November 29, 1996. Her bruised, nude body was found locked in her office at the Department of Commerce.
21-Charles Meissner -Assistant Secretary of Commerce who gave John Huang special security clearance, died shortly thereafter in a small plane crash.
22-Dr. Stanley Heard - Chairman of the National Chiropractic Health Care Advisory Committee died with his attorney Steve Dickson in a small plane crash. Dr. Heard, in addition to serving on Clinton 's advisory council personally treated Clinton 's mother, stepfather and brother.
23-Barry Seal -Drug running pilot out of Mena Arkansas , death was no accident.
24-Johnny Lawhorn Jr. - Mechanic, found a check made out to Bill Clinton in the trunk of a car
25-Stanley Huggins - Investigated Madison Guaranty. His death was a purported suicide and his report was never released.
26- Hershell Friday - Attorney and Clinton fund raiser died March 1, 1994 when his plane exploded.
27-Kevin Ives & Don Henry - Known as "The boys on the track" case. Reports say the boys may have stumbled upon the Mena Arkansas airport drug operation. A controversial case, the initial report of death said, due to falling asleep on railroad tracks. Later reports claim the 2 boys had been slain before being placed on the tracks. Many linked to the case died before their testimony could come before a Grand Jury.
28-Keith Coney - Died when his motorcycle slammed into the back of a truck, July, 1988 29-Keith McMaskle - Died stabbed 113 times, Nov, 1988. 30-Gregory Collins - Died from a gunshot wound January 1989. 31-Jeff Rhodes - He was shot, mutilated and found burned in a trash dump in April 1989. 33-James Milan - Found decapitated. However, the Coroner ruled his death was due to "natural causes". 34-Jordan Kettleson - Was found shot to death in the front seat of his pickup truck in June 1990. 35-Richard Winters - A suspect in the Ives / Henry deaths. He was killed in a set-up robbery July 1989.
THE FOLLOWING CLINTON BODYGUARDS ARE DEAD:
36 -Major William S. Barkley Jr. 37-Captain Scott J . Reynolds 38-Sgt. Brian Hanley 39-Sgt. Tim Sabel 40-Major General William Robertson 41-Col. William Densberger 42-Col. Robert Kelly 43-Spec. Gary Rhodes 44-Steve Willis 45-Robert Williams 46-Conway LeBleu 47-Todd McKeehan
Quite a list of tragedy. There have been plane crashes that haven't resulted in this many deaths. Moral to the story- don't be friends with the Clintons'.
HILLARY'S — AND NOW OBAMA'S — "VAST LEFT-WING COVER-UP"
MAY 29, 2013 BY JIM GUIRARD
Almost 20 years ago, early in the Clinton-Rodham-Gore era, the late New York Times columnist William Safire charged that First Lady Hillary Clinton was so routinely dishonest in her reaction to the many scandal-"gates" of which she and husband Bill were being accused as to merit the derisive label of "congenital liar."
According to that highly acclaimed political affairs commentator and author of the Times "On Language" column, Hillary's tendency to spin, scam, deceive, and lie in her response to charges of impropriety and possible corruption (e.g., in Whitewater-gate, S&L-gate, Travel Office-gate, Cattle Futures-gate, Missing Files-gate, Hubble-gate, Vince Foster-gate, Lippo/China-gate and many more) was so deeply rooted as to be in her genes.
Now that President Barack Obama is being accused of similar spins, scams, and cover-ups, the reaction of the White House, the left-wing Democrats, the establishment media, and most of academia is – like then – – one of indignant outrage. But are not Barack and Hillary "joined at the hip" in both their Saul Alinsky ideologies, their Rules for Radicals tactics, and their current "tar baby" of the Benghazi Cover-up?
Back then, in a master-stroke of misdirection and disinformation worthy of Harry Houdini, Hillary loudly alleged (and a compliant left-wing media loudly amplified) a "Vast Right-wing Conspiracy" against both herself and First Husband Bill – with all of the blame going to the dastardly right-wing Republicans.
And so it will be again if the finger-pointing, blame-gaming "Progressives" (code-word for Socialists) are given free rein to demonize Barack Obama's critics and detractors, no matter how correct and justified the Tea Partiers and other Republicans are in their anti-Obamanism.
The Other Side of the Coin – Proofs of a "SCAMALOT" Cover-up
But this victimization need not be the case if Obama's critics have the good sense to charge – in Hillary Clinton style – a "Vast Left-wing Cover-up" of not only the Benghazi and IRS Scandals but of many other BHO spins, scams, false denials, false promises, and programmatic abuses, some listed below.
Now, in an exercise of "history repeats" and of appropriate legacy labels for these two less-than-truthful Presidencies – which happen to share the VIP persona of Hillary Clinton – here is a critical look at some of the ignoble, deceitful, and scam-filled aspects of Obama's "Age of Scamalot" Presidency.
In terms of the latter label, this author's January 30, 2010 posting on AmericanThinker.com — "From Camelot to SCAMALOT" — took the first step toward forever
disconnecting
Jack and Jackie Kennedy's legacy label from the always upbeat, smiling, and charming
but so deeply deceitful
Presidency of Barack Obama,
HERE
.
Having completed four tortured years in office — and now extending "Four More Years" into nearly a decade of redistribution, dependency, and egalitarian poverty — it is a legacy label that should be as damaging to today's Obaman and Clintonian "Progressives" as the heroic-sounding "Camelot" label has been a political benefit for almost 50 years to the Kennedys and the Democrats as a whole.
Listed and briefly explained in that AmericanThinker.com posting were a full dozen major "BHOtoxin" deceits, spins, and scams relating to issues of transparency, budgetary earmarking, deficit spending, unemployment, CBO cost-scoring, accountability, bipartisanship, energy independence, the role of lobbyists, climate change, and the War on Terrorism.
A sequel now being prepared for publication quite soon – once Benghazi Scam, IRS Scam, and Associated Press Scam can be included — will triple the count to at least three dozen of the failures (and their cover-ups) that foreshadow the rising element of "No Confidence" in this gradually deflating Presidency.
So desperate are the Obamanoids to escape the dreaded "Cover-up" label that they have concocted countless euphemistic alternatives by which they and the mainstream media might paint a less sinister picture of L'Affaire Benghazi – e.g., a sideshow, a political carnival, no "there" there, old news, a witch hunt, a fleeting story, a Fox News story, a minor bump in the road, Speaker Boehner's fixation, a desperate right-wing distraction, radical partisanship, a GOP cut in funding, a tool for fundraising, ad infinitum.
But at the base of it all is the question of just WHO IS THIS MAN of the "Vast Left-wing Cover-up?" – whose entire life history is either unknown or so highly "spun" as to dwarf even the Benghazi Talking Points fiasco – and whose 35 (!) examples are listed in groups of five for easy reading, re-reading, and troubled amazement:
his birthplace records – both hospital and State of Hawaii documentation,
his Marxist parentage, grand-parentage, and "Frank M. Davis-mentored" youth,
his grammar and high school academic, financial, and activities records,
his US, Indonesian, and any other (?) Passport and foreign travel records,
his Occidental College admission, academic, activities, and financial records,
his Columbia University academic, activities, and financial aid records,
his IAF and other Saul Alinsky-style "Community Organizing" records,
his Islamic and/or "Black Muslim" Nation of Islam/Louis Farrakhan records,
his Black Liberation Theology church records, especially Rev. Wright's files,
his Harvard Law and Saudi-connected (?) financial aid and activities records,
his book writing (especially with ghost-writer William Ayers) records,
his Woods Foundation (with Marxist Board Chairman William Ayers) records,
his Chicago New Party (officially Socialist and even communist) records,
his Illinois State Senate (primarily "Voting Present") records,
his and Michelle's Illinois Bar records — and their de facto disbarments,
his records of real estate and financial dealings with (felon) Tony Rezko,
his dealings with Rashid Khalidi and Bill Ayers (together) in Chicago,
his records of dealings with the Davis, Miner, Barnhill & Gallard law firm,
his and Michelle's dealings with Chicago Med Center $$$-crony Eric Whitaker,
his Senate and White House medical records with Dr. David Shiener,
his so-called "Prof. of Constitutional Law" lecturing records and evaluations,
his radical-Left personal, political, and professional associations,
his social, romantic, and "lifestyle" preferences before marrying Michelle,
his suddenly no-longer-archived-by-DoD (!!) Selective Service records,
his Social Security records, especially his feloniously false SS Number,
his secret "enemies list" of major contributors to the Mitt Romney Campaign,
his "kill list" of both Americans and foreigners "deemed" to be AQ-style terrorists,
his official release of an almost certainly forged birth certificate in April 2011,
his relentless efforts to deny the Judeo-Christian origins and character of America,
his conspiracy with Harry Reid and Joe Biden for no Senate Budget Resolutions,
his Contempt-of-Congress efforts to weaken Clinton-era Welfare Reform work rules,
his records of involvement in the Fast and Furious "gun-walking to Mexico" scandal,
his records of collaboration with the "Soroctopus" Center For American Progress,
his manipulations and "Harm Offensive" in mgmt. of the "Sequestered" budget cuts,
the hidden role of his alter ego, Valerie Jarrett, in the Benghazi, the IRS, the AP, the FoxNews, the HHS, the EPA, and other misdeeds and their subsequent cover-ups.
Question du jour: Does this compulsive man of "Cover-up" scam just a little, or does he Scam-a-LOT?
And is he even now covering up and scamming the Breaking News about his April 31, 2010 White House meeting with National Treasury Employees Union President Colleen Kelly – the very day before NTEU leaders at the IRS initiated the illegal "Targeting" of Tea Parties and other "Christian-Conservative" and "Patriotic" applicants for tax-exempt status?
The Great Evil of False Words, Labels, and Narratives
So now, in this shameful "Age of Scamalot and Vast Left-wing Cover-ups," let us recall what the great Chinese philosopher Confucius said 2400 years ago when asked what would be his first action if he were placed in charge of the government of China:
"It would certainly be to correct language. If language is not correct then what is said is not what is meant. If what is said is not what is meant, then what ought to be done remains undone. If this remains undone, then morals and acts deteriorate. If morals and acts deteriorate, justice will go astray. If justice goes astray, the people will stand about in helpless confusion. Hence, there must be no arbitrariness in what is said. This matters above everything."
And much closer to home and to the current political situation, that great American man of words, Mark Twain, once asserted that "The difference between the right word and the almost right word is the difference between lightning and a lightning bug." If that be the case, let us hope that a thoughtful and proactive use of truthful "lightning words" only and a strict avoidance of all such false narratives as those cited above will:
first, help to unmask both Hillary Clinton's and Barack Obama's insidious "Vast Left-wing Cover-up" — which stretches back several decades to their shared lock-step devotion to the "transitional Marxist" likes of Antonio Gramsci, Saul Alinsky, and, alas, George "Soroctopus" Soros; and,
second, will enable all of us Americans to limit this ignoble "Age of Scamalot" and its OPRAH Land (Obama-Pelosi-Reid-and-Hillary Land) Plantation of dependency, egalitarian poverty, and indentured servitude to no more than the unfortunate "Four More Years" to which a slim majority of American voters have recently sentenced us all.
A DC-area attorney, writer and national security strategist, Jim Guirard was longtime Chief of Staff to former US Senators Allen Ellender and Russell Long. His TrueSpeak.org Web site is devoted to truth in language and truth in history in public discourse.
From Kennedy's Age of "CAMELOT" to Obama's Age of "SCAMALOT"
Author: Jim Guirard - AmericanThinker.com
For almost half a century, the romantic and noble legacy label of John and Jackie Kennedy's "Camelot" years in the White House has been an integral part of our political lexicon -- and a major asset to the once liberal, now mostly left-illiberal, Democratic National Party.
How ironic it is that in the late JFK?s own state of Massachusetts the voters who elected Republican State Senator Scott Brown to the US Senate have laid the predicate for yet another Presidential legacy label ? this time the highly ignoble one of ?SCAMALOT? for the unfolding political lives of Barack Obama and his far-left entourage.
Faced with so many false assurances, exaggerated "hopes" and inflated assertions about not only Obama?s healthcare take-over but also about his radical policies on energy, taxes, the national debt, unemployment, the environment and the ongoing War on Terrorism, Bay State voters came to believe that the President is simply deceiving them -- to the point that they were routinely thinking, "You lie."
But using the somewhat softer term of "scam," instead, let us paint a full picture of what is going on here -- and posing the tough question: "Does this charismatic, smooth-talking and openly "Progressive" (i.e., socialist) President Obama scam just a little, or does he truly scam a lot?"
SCAM # 1 -- He loudly asserts complete "transparency" but there is little or none -- e.g., his birthplace records, his Marxist parentage and upbringing, his school records from grammar to graduate, his passport records, his radical-Left personal and professional associations, his deep association with the ACORN conspiracy, his Harvard Law Review and book writing records, and his multiple far-left, non-vetted, un-confirmed and largely unaccountable regulatory "czars."
SCAM # 2 -- He continues to assure "bipartisanship" and "accountability" but there is little of either, with most of his "economic stimulus" legislation and "TARP" funding ? and now the healthcare proposals -- crafted behind closed doors and with all of the Republicans (and all centrist and conservative Democrats, as well) actually locked out.
NOTE: Massachusetts voters seem to have decided that ?BUYpartisanship? might be a better spelling for the blatant vote-buying of several Senate Democrats (and probably as many House Democrats, as well) who are so servile as to be For Sale.
SCAM # 3 -- He promises not to sign any healthcare bill which "adds a single dime to the deficit" -- but deceitfully front-loads taxes and back-loads benefits to make it seem so, and contrives multiple "scoring" schemes which grossly underestimate hidden costs by trillions of such "single dimes."
SCAM # 4 -- He pledges not to raise the taxes of anyone who earns less than such-and-such amount -- a number which keeps getting smaller and smaller -- and cynically labels $250 "stimulus" handouts as "tax cuts for 95-percent of all taxpayers."
SCAM # 5 -- He has assured that there would no role for "lobbyists" in (or substantially influencing) his Administration but has made so many exceptions and end-runs as to render the original pledge a prima facie lie. (Surely, SEIU President Andy Stern, who virtually lives in the White House, would never "lobby" the President on anything.)
SCAM # 6 -- He pretends to have left the Liberation Theology church, when he has merely distanced himself from a particularly radical minister -- while then appointing that minister's hand-picked and equally radical successor, Rev. Cecil Morris, to his Office of Faith-based and Neighborhood Initiatives, and appointing a Cuban expatriate Liberation Theologytheologian, Professor Miguel Diaz, as his ambassador to the Vatican.
SCAM # 7 -- He claims not to be a socialist but a "Progressive," instead -- when the latter has long been the radical-Left's codeword for the former, and even when such "Death to America" socialists and communists as Fidel Castro, Hugo Chavez and Daniel Ortega proudly claim the "Progressive" label, as well.
SCAM # 8 -- He talks of "energy independence" but proposes multi-layered policies of Less Energy at Higher Prices (LEAHP) -- all of which are devoted to a ruinously low "carbon footprint" belief system which is itself a pseudo-religious scam, correctly being called by many the Branch Carbonian Cult.
SCAM # 9 -- He embraces as "scientific consensus" the junk science of Anthropogenic Global Warming (AGW) and shamelessly rejects virtually all scientific evidence (re solar cycles, cosmic winds, ocean currents, volcanic activity, etc.) to the contrary, just as the pseudo-scientific Branch Carbonians do.
SCAM # 10 -- He promises "jobs, jobs, jobs" while he relentlessly proposes -- in an apparent state of cognitive dissonance -- both the proactive outforcing of jobs and capital investment and the determined downforcing of most major domestic energy supplies.
SCAM # 11 -- He repeatedly blames the ever exploding budget deficits and the unending loss of jobs on ?the Bush economy we inherited? -- when it was clearly the Pelosi-Reid Congressional Economy of 2007-08 (with its promises of higher taxes and of radical ?carbon-footprint? crackdowns) that he inherited and that had already ended the de facto Bush Boom of the preceding three years, 2004-06.
SCAM # 12 -- He cynically re-labels Global Terrorism a "man-made disaster" and re-defines al Qaeda-inspired and trained enemy combatants as mere Miranda-protected "criminals" -- and thereby tries to insulate himself and his legacy from ever having "lost a war" which, after all, was never a war in the first place.
Topping it all, he and his dedicated fellow ?Progressives? will continue in the media, in academia and elsewhere to muddle the truth about all of the major scams listed above ? plus false or flippantly unreliable promises to end earmarking, to reduce deficit spending, to close Gitmo, to end corruption in high places, etc. ad infinitum.
And they will do this by a wide variety of deceptive tactics, many of which come mainly from the late, great Marxist tactician of community organizing, Saul Alinsky, and his infamous "Rules for Radicals" handbook ? which the young Barack actually taught to fellow radicals in both classroom and street-wise, ACORN-style settings.
And so it is that Barack Obama's SCAMALOT army marches onward. As the French always say, "Le plus ca change, le plus c'est la meme chose." In this case, it will be the same old Big Brother dream of World Socialism -- and will remain so until we are finally able to flush the electoral toilets all across the nation later this year and again in 2012, as has so appropriately just happened in Massachusetts.
A DC-area attorney and national security strategist, Jim Guirard was longtime Chief of Staff to former US Senators Allen Ellender and Russell Long. His TrueSpeak.org Web site focuses on truth-in-language and truth-in-history in public discourse.
Hillary Clinton Pushes to Make Criticism of Islam a Crime in the US.
Are Hillary and Barack in a race to see which one can destroy this Country first? May God protect the United States of America from these two Marxist thugs!
One of the fundamental laws of Islam deals with "slander
," which is defined in shariah as saying "anything concerning a person
[a Muslim] that he would dislike." At the OIC's Third Extraordinary
Session, held in Mecca, Saudi Arabia in December 2005, the organization
adopted a "
Ten-Year Programme of Action
to Meet the Challenges Facing the Muslim Ummah in the 21st Century." A key
agenda
item of that meeting was "the need to counter Islamophobia" by seeking
to have the UN "…adopt an international resolution to counter
Islamophobia, and call upon all States to enact laws to counter it,
including deterrent punishments." The word "Islamophobia" is a
completely invented word, coined by the International Institute of
Islamic Thought (IIIT), a Muslim Brotherhood (Ikhwan) front group. OIC
adoption of the term reflects the close operational relationship
between the OIC and the Ikhwan.
Six years later,
Secretary of State Hillary Clinton is due to host OIC Secretary General Ekmeleddin Ihsanoglu in Washington, DC in mid-December 2011 to discuss how the
United States can implement the OIC agenda to criminalize criticism of
Islam
. Cloaked in the sanctimonious language of "
Resolution 16/18
,"
that was adopted by the UN Human Rights Council in April 2011, the WDC
three-day experts meeting is billed as a working session to discuss
legal mechanisms to combat religious discrimination (but the only
religion the Human Rights Council has ever mentioned in any previous
resolution is Islam). The UN Human Rights Council, which includes such
bastions of human rights as China, Cuba, Libya, Pakistan, and Saudi
Arabia, introduced Resolution 16/18 to the UN General Assembly (UNGA),
where it was passed in March 2011.
The Resolution was presented to the UNGA
by Pakistan (where women get the death penalty for being raped and
"blasphemy" against Islam is punished by death). Ostensibly about
"combating intolerance, negative stereotyping and…incitement to
violence against persons based on religion or belief," the only
partnership mentioned in the text is the one with the OIC. The U.S.,
whose official envoy to the OIC, Rashad Hussain, helped write Obama's
Cairo speech, actively collaborated in the drafting of Resolution 16/18.
Now, the OIC's Ihsanoglu will come to
Washington, DC, the capital of one of the only countries in the world
with a Constitution that guarantees freedom of speech and a judicial
system that consistently defends it, with a publicized agenda to
criminalize criticism of Islam. His agenda, and, apparently that of his
host, the U.S. Department of State, seek to bring the U.S. into full
compliance with Islamic law on slander, as noted above.
Benghazi just got closer to Hillary Clinton
Back on October 10, 2012, State Department Under Secretary Patrick Kennedy testified in front of the House Oversight and Reform Committee about the attacks in Benghazi one month earlier, on 9/11/12. Now an internal memo from 2011 that reveals Kennedy signed off on the staffing levels at the Special Mission Compound (SMC) where Ambassador Christopher Stevens was murdered.
The decision to keep U.S. personnel in Benghazi with substandard security was made at the highest levels of the State Department by officials who have so far escaped blame over the Sept. 11 attack, according to a review of recent congressional testimony and internal State Department memos by Fox News.

Nine months before the assault that killed Ambassador Chris Stevens and three others, State Department Under Secretary Patrick Kennedy signed off on an internal memo that green-lighted the Benghazi operation.

The December 2011 memo from Jeffrey Feltman — then-Assistant Secretary of State for Near Eastern Affairs (NEA) — pledged "to rapidly implement a series of corrective security measures." However, no substantial improvements were made, according to congressional testimony to the House oversight committee from Regional Security Officer Eric Nordstrom.
What's clear is that Benghazi was not referred to as a consulate in the "Action Memo for Under Secretary Kennedy" by Feltman. The omission may have exempted it from mandatory physical security standards.

In fact, the recently released "talking points" emails show that the State Department was insistent that the White House not refer to Benghazi as a consulate. Instead, policy adviser Jacob Sullivan said it should be called a "mission" or "diplomatic post."
Mike Morell, deputy director of the CIA, agreed to work with Jake Sullivan and Rhodes to edit the talking points. At the time, Sullivan was deputy chief of staff to Secretary of State Hillary Clinton and the State Department's director of policy planning; he is now the top national security adviser to Vice President Joe Biden.
This raises two questions relative to Sullivan's role. First, why did he insist on the SMC being identified as something that does not require "mandatory" security standards? Second, why was he apparently so involved in the crafting of demonstrably false talking points for Susan Rice?
While other media reports have made passing references to the action memo signed by Kennedy and Feltman in the context of ongoing security issues, former State Department officials tell Fox News that the document is significant because Kennedy would not set policy on his own. Kennedy was ultimately responsible for overseas building operations deals with building leases and security, which should have followed strict OSPB standards.

"I find it very hard to believe that he (Kennedy) would sign this memo without having talked to Secretary Clinton or at least Deputy Secretary (William) Burns," former ambassador to the U.N. John Bolton told Fox News after examining the December 2011 memo.
The Transitional National Council (TNC) recently declared Libya liberated and moved the center of TNC operations from Benghazi to Tripoli.
The video of Patrick Kennedy's opening statement in front of the House Oversight and Government Reform Committee back on October 10, 2012 is below. Keeping the December 27, 2011 memo in mind, pay attention at the 4:27 mark, when Kennedy says the following:
"We must review the security procedures in place, and improve them, asking ourselves if our people had what they needed and how we can reduce the risk of this happening again."
Based on the memo, signed off on by Kennedy, one of the solutions for reducing future risk would involve the firing of Kennedy, which makes a nice segue to another part of the video.
Take note beginning at about the 6:30 mark, when Kennedy completes his statement. Chairman Darrell Issa asks Kennedy if 'embarrassing', yet unclassified documents that were only available 'in camera' to committee members would be released for the hearing. Using twisted and tortured logic, Kennedy essentially said no. Incidentally, on the bottom of each page of the four-page memo from December 27, 2011, in all caps are the words, SENSITIVE BUT UNCLASSIFIED.
It can be logically concluded, therefore, that this memo may very well be one of the documents to which Issa was referring.
We also have evidence – courtesy of this video – that Kennedy perjured himself at worst and warrants little credibility at best. Beginning at the 2:20 mark, he said the following:
"If any administration official – including any career official – were on television on Sunday, September 16th, they would have said what Ambassador Rice said. The information she had at that point, from the intelligence community, is the same that I had at that point."
Perhaps it's time for the Oversight Committee to call Mr. Kennedy back for another few rounds of questions.