President Obama signed the National Defense Authorization Act, a decision being defended by some partisan Democrats. The Young Turks host Cenk Uygur breaks down specifics in the bill to refute the claims made by the defenders of Obama and the NDAA.
President Barack Obama has signed a controversial defence bill that basically allows the indefinite detention of terror suspects. The U.S. president said he had 'serious reservations' on some provisions regarding the treatment of detainees. But as Marina Portnaya reports, during his time in office, Obama's shown he's not always good to his word.
Obama signs NDAA defense bill despite 'reservations'
HONOLULU (AP) -- President Barack Obama signed a wide-ranging defense bill into law Saturday despite having "serious reservations" about provisions that regulate the detention, interrogation and prosecution of suspected terrorists.
The bill also applies penalties against Iran's central bank in an effort to hamper Tehran's ability to fund its nuclear enrichment program. The Obama administration is looking to soften the impact of those penalties because of concerns that they could lead to a spike in global oil prices or cause economic hardship on U.S. allies that import petroleum from Iran.
In a statement accompanying his signature, the president chastised some lawmakers for what he contended was their attempts to use the bill to restrict the ability of counterterrorism officials to protect the country.
Administration officials said Obama was only signing the measure because Congress made minimally acceptable changes that no longer challenged the president's terrorism-fighting ability.
"Moving forward, my administration will interpret and implement the provisions described below in a manner that best preserves the flexibility on which our safety depends and upholds the values on which this country was founded," Obama said in the signing statement.
Signing statements allow presidents to raise constitutional objections to circumvent Congress' intent. During his campaign for the White House, Obama criticized President George W. Bush's use of signing statements and promised to make his application of the tool more transparent.
Obama's signature caps months of wrangling over how to handle captured terrorist suspects without violating Americans' constitutional rights. The White House initially threatened to veto the legislation but dropped the warning after Congress made last-minute changes.
Among the changes the administration secured was striking a provision that would have eliminated executive branch authority to use civilian courts for trying terrorism cases against foreign nationals.
The new law now requires military custody for any suspect who is a member of al-Qaida or "associated forces" and involved in planning or attempting to carry out an attack on the United States or its coalition partners. The president or a designated subordinate may waive the military custody requirement by certifying to Congress that such a move is in the interest of national security.
The administration also pushed Congress to change a provision that would have denied U.S. citizens suspected of terrorism the right to trial and could have subjected them to indefinite detention. Lawmakers eventually dropped the military custody requirement for U.S. citizens or lawful U.S. residents.
"My administration will not authorize the indefinite military detention without trial of American citizens," Obama said in the signing statement. "Indeed, I believe that doing so would break with our most important traditions and values as a nation."
Despite the changes, officials cited serious concerns that the law will complicate and could harm the investigation of terrorism cases.
For example, FBI Director Robert Mueller has said the measure would inhibit his bureau's ability to persuade suspected terrorists to cooperate immediately and provide critical intelligence. He told Congress it wasn't clear how agents should operate if they arrest someone covered by the military custody requirement but the nearest military facility is hundreds of miles away.
Other officials have said agents and prosecutors should not have to spend their time worrying about citizenship status and whether get a waiver while trying to thwart a terror attack.
The administration also raised concerns about an amendment in the bill that goes after foreign financial institutions that do business with Iran's central bank, barring them from opening or maintaining correspondent operations in the United States. It would apply to foreign central banks only for transactions that involve the sale or purchase of petroleum or petroleum products.
Officials worry that the penalties could lead to higher oil prices, damaging the U.S. economic recovery and hurting allies in Europe and Asia that purchase petroleum from Iran.
The penalties do not go into effect for six months. The president can waive them for national security reasons or if the country with jurisdiction over the foreign financial institution has significantly reduced its purchases of Iran oil.
The State Department has said the U.S. was looking at how to put them in place in a way that maximized the pressure on Iran, but meant minimal disruption to the U.S. and its allies.
This week, Iran warned that it may disrupt traffic in the Strait of Hormuz - a vital Persian Gulf waterway. But on Saturday, Tehran seemed to back off that threat when a commander of its Revolutionary Guard said such discussion is a thing of the past and "belongs to five years ago."
Iran also said Saturday that it had proposed a new round of talks on its nuclear program with the U.S. and other world powers. The invitation would come after the U.N. has imposed four rounds of sanctions. Separately, the U.S. and the European Union have imposed their own tough economic and financial penalties.
The $662 billion bill authorizes money for military personnel, weapons systems, the wars in Afghanistan and Iraq and national security programs in the Energy Department for the fiscal year beginning Oct. 1.
The measure also freezes some $700 million in assistance until Pakistan comes up with a strategy to deal with improvised explosive devices.
Obama signed the bill in Hawaii, where he is vacationing with his family.
Follow Julie Pace at http://twitter.com/jpaceDC
© 2011 The Associated Press. All rights reserved.
http://hosted.ap.org/dynamic/stories/U/US_OBAMA_DEFENSE_BILL?SITE=AP&SECTION=HOME&TEMPLATE=DEFAULT&CTIME=2011-12-31-17-42-05
Congress, Obama Codify Indefinite Detention
by

Sheldon Richman

,

December 27, 2011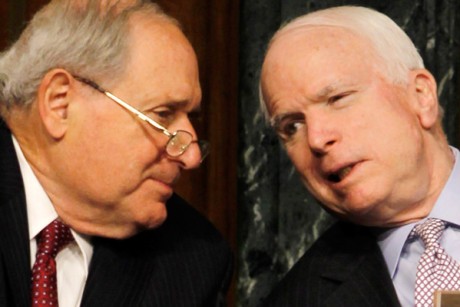 In yet another reversal of his professed commitment to the rule of law, President Obama says he will sign the National Defense Authorization Act (NDAA), which formalizes his authority to imprison terrorism suspects indefinitely without charge or trial.
Where is the "progressive" outrage?
George W. Bush and Obama both claimed that the 2001 Authorization for the Use of Military Force (AUMF) empowered them to have the military hold people merely suspected of association with al-Qaeda or related organizations without charge for the duration of the "war on terror." It didn't matter if the suspect was a foreigner, a U.S. citizen, or a legal resident. It also didn't matter if the alleged offense was committed inside or outside the United States. The battlefield encompassed the whole world.
In interpreting the AUMF this way, both administrations went well beyond its language. On its face, the AUMF only authorizes "the President … to use all necessary and appropriate force against those nations, organizations, or persons he determines planned, authorized, committed, or aided the terrorist attacks that occurred on September 11, 2001, or harbored such organizations or persons, in order to prevent any future acts of international terrorism against the United States by such nations, organizations or persons."
Clearly the power is restricted to people involved in 9/11 and those who protected them. Yet under novel theories of the executive branch's constitutional authority, this was turned into a virtual blank check.

The AUMF also makes no reference to indefinite detention or to turning citizens and legal residents over to the military, rather than civilian law enforcement, when they are merely suspected of being involved in a vague class of activities such as "supporting" "associated forces" in the commission of belligerent acts.
Regardless of the absence of the relevant language, both the Bush and Obama administrations claimed these broad powers that make a mockery of the U.S. Constitution and the Bill of Rights' Fifth Amendment in particular.
Now these powers have been formally set down on paper. Ironically, the Obama administration hinted at a veto of the bill because it introduced restrictions on its authority. Carrying on the Bush philosophy that under the Constitution the executive branch has virtually unlimited power, Obama objected to any congressional intrusion into its prerogatives, even if only to codify authority already claimed and exercised.

For example, one section requires the executive branch to turn over to the military a person suspected of terrorism. Note that this would even include individuals resisting the American occupation of Afghanistan or the bombing in Sudan or Somalia. It could also include someone who innocently gave money to a charity not knowing it had some connection to an "associated" organization. But the Obama administration did not like being required to do this. Rather, it prefers to have it as an option. In the end, the administration was granted the power to use civilian courts, but only after filing a waiver with Congress.
The section goes on to say that included within the military's authority is "detention under the law of war without trial until the end of hostilities." This section, however, exempts Americans citizens captured inside the country.
The next section does apply to American citizens and other legal residents. Although it explicitly says the administration is not required to turn them over to the military, itmay do so if it wishes. Obama successfully opposed a blanket prohibition in this section against the military detention of American citizens.
As one of its defenders, Sen. Lindsey Graham, said of the provision: "The statement of authority to detain does apply to American citizens and it designates the world as the battlefield, including the homeland." This shouldn't be surprising: Obama already claims the authority to kill Americans without due process.
Obama's intention to sign the NDAA tells us exactly where he stands on the Bill of Rights. As Human Rights Watch put it: "President Obama will go down in history as the president who enshrined indefinite detention without trial in US law."
The late Chalmers Johnson , the scholar who did so much to chronicle America's world domination, liked to say that you either abolish the empire or live under it. Is there any doubt he was right?

Sheldon Richman is senior fellow at The Future of Freedom Foundation in Fairfax, Va., author of Tethered Citizens: Time to Repeal the Welfare State, and editor of The Freeman magazine. Visit his blog Free Association at www.sheldonrichman.com. Send him email.
http://www.fff.org/comment/com1112cc.asp

Congress is Signing Its Own Arrest Warrants in the NDAA Citizen Arrest Bill..
From Naomi Wolf
Published: December 12th, 2011
I never thought I would have to write this: but—incredibly—Congress has now passed the
National Defense Appropriations Act
, with Amendment 1031, which allows for the military detention of American citizens. The amendment is so loosely worded that any American citizen could be held without due process. The language of this bill can be read to assure Americans that they can challenge their detention — but most people do not realize what this means: at Guantanamo and in other military prisons, one's lawyer's calls are monitored, witnesses for one's defense are not allowed to testify, and one can be forced into nudity and isolation. Incredibly, ninety-three Senators voted to support this bill and now most of Congress: a roster of names that will live in infamy in the history of our nation, and never be expunged from the dark column of the history books.
They may have supported this bill because—although it's hard to believe—they think the military will only arrest active members of Al Qaida; or maybe, less naively, they believe that 'at most', low-level dissenting figures, activists, or troublesome protesters might be subjected to military arrest. But they are forgetting something critical: history shows that those who signed this bill will soon be subject to arrest themselves.
Our leaders appear to be supporting this bill thinking that they will always be what they are now, in the fading light of a once-great democracy — those civilian leaders who safely and securely sit in freedom and DIRECT the military. In inhabiting this bubble, which their own actions are about to destroy, they are cocooned by an arrogance of power, placing their own security in jeopardy by their own hands, and ignoring history and its inevitable laws. The moment this bill becomes law, though Congress is accustomed, in a weak democracy, to being the ones who direct and control the military, the power roles will reverse: Congress will no longer be directing and in charge of the military: rather, the military will be directing and in charge of individual Congressional leaders, as well as in charge of everyone else — as any Parliamentarian in any society who handed this power over to the military can attest.
Perhaps Congress assumes that it will always only be 'they' who are targeted for arrest and military detention: but sadly, Parliamentary leaders are the first to face pressure, threats, arrest and even violence when the military obtains to power to make civilian arrests and hold civilians in military facilities without due process. There is no exception to this rule. Just as I traveled the country four years ago warning against the introduction of torture and secret prisons – and confidently offering a hundred thousand dollar reward to anyone who could name a nation that allowed torture of the 'other' that did not eventually turn this abuse on its own citizens — (confident because I knew there was no such place) — so today I warn that one cannot name a nation that gave the military the power to make civilian arrests and hold citizens in military detention, that did not almost at once turn that power almost against members of that nation's own political ruling class. This makes sense — the obverse sense of a democracy, in which power protects you; political power endangers you in a militarized police state: the more powerful a political leader is, the more can be gained in a militarized police state by pressuring, threatening or even arresting him or her.
Mussolini, who created the modern template for fascism, was a duly elected official when he started to direct paramilitary forces against Italian citizens: yes, he sent the Blackshirts to beat up journalists, editors, and union leaders; but where did these militarized groups appear most dramatically and terrifyingly, snapping at last the fragile hold of Italian democracy? In the halls of the Italian Parliament. Whom did they physically attack and intimidate? Mussolini's former colleagues in Parliament — as they sat, just as our Congress is doing, peacefully deliberating and debating the laws. Whom did Hitler's Brownshirts arrest in the first wave of mass arrests in 1933? Yes, journalists, union leaders and editors; but they also targeted local and regional political leaders and dragged them off to secret prisons and to torture that the rest of society had turned a blind eye to when it had been directed at the 'other.' Who was most at risk from assassination or arrest and torture, after show trials, in Stalin's Russia? Yes, journalists, editors and dissidents: but also physically endangered, and often arrested by militarized police and tortured or worse, were senior members of the Politburo who had fallen out of favor.
Is this intimidation and arrest by the military a vestige of the past? Hardly. We forget in America that all over the world there are militarized societies in which shells of democracy are propped up — in which Parliament meets regularly and elections are held, but the generals are really in charge, just as the Egyptian military is proposing with upcoming elections and the Constitution itself. That is exactly what will take place if Congress gives the power of arrest and detention to the military: and in those societies if a given political leader does not please the generals, he or she is in physical danger or subjected to military arrest. Whom did John Perkins, author of Confessions of an Economic Hit Man, say he was directed to intimidate and threaten when he worked as a 'jackal', putting pressure on the leadership in authoritarian countries? Latin American parliamentarians who were in the position to decide the laws that affected the well-being of his corporate clients. Who is under house arrest by the military in Myanmar? The political leader of the opposition to the military junta. Malalai Joya is an Afghani parliamentarian who has run afoul of the military and has to sleep in a different venue every night — for her own safety. An on, and on, in police states — that is, countries with military detention of civilians — that America is about to join.
US Congresspeople and Senators may think that their power protects them from the treacherous wording of Amendments 1031 and 1032: but their arrogance is leading them to a blindness that is suicidal. The moment they sign this NDAA into law, history shows that they themselves and their staff are the most physically endangered by it. They will immediately become, not the masters of the great might of the United States military, but its subjects and even, if history is any guide — and every single outcome of ramping up police state powers, unfortunately, that I have warned for years that history points to, has come to pass — sadly but inevitably, its very first targets.
Indefinite military detention for U.S. citizens now in the hands of a secretive conference committee
December 8, 2011 – by Donny Shaw
http://bit.ly/sxolqr
http://naomiwolf.org/2011/12/how-congress-is-signing-its-own-arrest-warrants-in-the-ndaa-citizen-arrest-bill/
Rep. Paul says defense bill assures 'descent into totalitarianism'
-
GOP presidential candidate Ron Paul warned that the National Defense Authorization Act, which was passed by Congress this month, will accelerate the country's "slip into tyranny" and virtually assures "our descent into totalitarianism."
"The founders wanted to set a high bar for the government to overcome in order to deprive an individual of life or liberty," Paul, the libertarian congressman from Texas, said Monday in a weekly phone message to supporters. "To lower that bar is to endanger everyone. When the bar is low enough to include political enemies, our descent into totalitarianism is virtually assured. The Patriot Act, as bad as its violations against the Fourth Amendment was, was just one step down the slippery slope. The recently passed National Defense Authorization Act continues that slip into tyranny, and in fact, accelerates it significantly."
The NDAA is the nearly $670 billion defense spending bill that covers the military budget and funding for the wars in Iraq and Afghanistan.
One controversial provision mandates the detention of terror suspects and reaffirms the administration's authority to detain those suspected of having ties to terrorist organizations.
"The Fifth Amendment is about much more than the right to remain silent in the face of government questioning," Paul continued. "It contains very basic and very critical stipulations about the due process of law. The government cannot imprison a person for no reason and with no evidence presented and without access to legal council. The danger of the NDAA is its alarmingly vague, undefined criteria for who can be indefinitely detained by the U.S. government without trial."
"It is no longer limited to members of Al Qaeda or the Taliban, but anyone accused of substantially supporting such groups or associated forces," Paul continued. "How closely associated, and what constitutes substantial support? What if it was discovered that someone who committed a terrorist act was once involved with a charity? Or suppose a political candidate? Are all donors of that candidate or supporters of that candidate now suspects and subject to indefinite detainment? Is that charity now an associated force?"
The White House initially threatened to veto NDAA because of the detainee language, saying it would tie the hands of law enforcement officials. But the administration dropped the veto threat before the bill passed the House, as the bill's supporters argued that there were sufficient waivers.
"The president's widely expanded view of his own authority to detain Americans indefinitely even on American soil is for the first time in this legislation codified in law," Paul said. "That should chill all of us to our cores."
"The Bill of Rights has no exceptions for really bad people or terrorists or even non-citizens. It is a key check on government power against any person. That is not a weakness in our legal system, it is the very strength of our legal system. The NDAA attempts to justify abridging the Bill of Rights on the theory that rights are suspended in a time of war, and the entire United States is a battlefield in the war on terror. This is a very dangerous development, indeed. Beware."
By

|

AP

–

Thu, Dec 1, 2011

Top national security lawyers in the Obama administration say U.S. citizens are legitimate military targets when they take up arms with al-Qaida.
The lawyers were asked at a national security conference Thursday about the CIA killing of Anwar al-Alwaki, a U.S. citizen and leading al-Qaida figure. He died in a Sept. 30 U.S. drone strike in the mountains of Yemen.
The government lawyers — CIA counsel Stephen Preston and Pentagon counsel Jeh Johnson — did not directly address the al-Alwaki case. But they said U.S. citizens don't have immunity when they're at war with the United States.
Johnson said only the executive branch, not the courts, are equipped to make decisions about who qualifies as an enemy.
http://news.yahoo.com/obama-lawyers-citizens-targeted-war-us-154313473.html
Section 1031 would strip Americans of all constitutional rights if they are declared 'terrorists'

Stand up for the Constitution and the Bill of Rights of the American People! IMPEACH every single Senator who voted FOR the McCain/Levin "U.S. is a Battlefield" bill that gives the military the right to go to the houses of U.S. Citizens and take them without charges or rights to a lawyer or trial for the rest of their lives! The Senators COMMITTED TREASON Directly Against the United States Citizens!
The Constitution cannot continue to be violated by these oathbreakers who swore to uphold it. Every Senator who voted yes should be tried for treason.
Here is a list of 61 anti-American terrorists that should be detained indefinitely.
Ayotte (R-NH) Barrasso (R-WY) Blunt (R-MO) Boozman (R-AR) Brown (R-MA) Burr (R-NC) Casey (D-PA) Chambliss (R-GA) Coats (R-IN) Coburn (R-OK) Cochran (R-MS) Collins (R-ME) Conrad (D-ND) Corker (R-TN) Cornyn (R-TX) Crapo (R-ID) DeMint (R-SC) Enzi (R-WY) Graham (R-SC) Grassley (R-IA) Hagan (D-NC) Hatch (R-UT) Heller (R-NV) Hoeven (R-ND) Hutchison (R-TX) Inhofe (R-OK) Inouye (D-HI) Isakson (R-GA) Johanns (R-NE) Johnson (R-WI) Kohl (D-WI) Kyl (R-AZ) Landrieu (D-LA) Lee (R-UT) Levin (D-MI) Lieberman (ID-CT) Lugar (R-IN) Manchin (D-WV) McCain (R-AZ) McCaskill (D-MO) McConnell (R-KY) Menendez (D-NJ) Moran (R-KS) Nelson (D-NE) Portman (R-OH) Pryor (D-AR) Reed (D-RI) Risch (R-ID) Roberts (R-KS) Rubio (R-FL) Sessions (R-AL) Shaheen (D-NH) Shelby (R-AL) Snowe (R-ME) Stabenow (D-MI) Thune (R-SD) Toomey (R-PA) Vitter (R-LA) Whitehouse (D-RI) Wicker (R-MS)
Petition to IMPEACH ALL Senators who Voted for "U.S. is a Battlefield"
http://www.thepetitionsite.com/892/petition-to-impeach-all-senators-who-voted-for-us-is-a-battlefield-and-to-detain-us-citizens-without/