Immelt: Businesses must do more on jobs
By Chris Isidore @CNNMoney July 11, 2011: 6:13 PM ET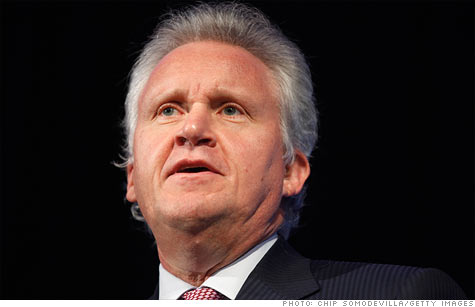 NEW YORK (CNNMoney) -- The head of General Electric told a jobs summit at the U.S. Chamber of Commerce Monday that businesses needed to take the lead on job creation.
At a conference where many of the comments were focused on government barriers to hiring, GE (GE, Fortune 500) Chairman and CEO Jeffrey Immelt acknowledged there needed to be some policy changes by Congress and the Obama administration. But he said that the responsibility for hiring lay with businesses.
.
"The people who are part of the business sector, the people in this room, have got to stop complaining about government and get some action underway," he told the group. "There's no excuse today for lack of leadership. The truth is we all need to be part of the solution."
Immelt is the chair of President Obama's Council on Jobs and Competitiveness. He said the group has made a number of recommendations for changes in government policies that should be able to help job creation, such as the executive order announced Monday asking independent agencies to rid their books of old and outdated regulations.
Immelt said he is committed to working with Obama on other moves that can help hiring, and that he expects to have proposals by the end of the year that should help to create up to 1 million jobs.
But he said that it's important that businesses take action -- like taking some risks, and thinking about bringing back jobs that had been moved overseas.
If companies examine the changing economics of some of those jobs, Immelt said they would find it is beneficial to bring jobs back home, which he said GE has done with some jobs now being moved back to Kentuckyand Michigan.
And he said that arguing between business groups and the government isn't in the best interest of the nation's economy.
"We can't always be fighting. We need to act, and the private sector can do more," he said.
The Chamber's jobs summit came in the wake of a disappointing government jobs report that
showed hiring ground to a near halt in June
. Immelt and other speakers referred to the report as a sign of the serious problems facing the labor market.
"We have a lot of work to do," he said.
Earlier in the day, Chamber President and CEO Thomas Donohue laid out his group's broad plans to improve hiring, with most of the focus on changes in government policies. Among the changes he called for were the passage of pending free trade agreements, reform of visa rules to allow companies to hire skilled workers and recent graduates from overseas and to boost spending by foreign visitors. He also called for easier permitting of new projects and reform of government regulations.
"Can you blame these businesses? They don't know what's going to hit them next, and that's what worries them the most," said Donohue.
Donohue and Immelt both said it is important that
Congress quickly agrees to raise the debt ceiling
to remove that uncertainty. Donohue said this should be done in conjunction with a long term plan to cut the deficit, primarily though spending cuts. The Chamber chief also advocated more infrastructure spending on things such as road projects, and he said a higher gas tax is needed to fund those projects.
The Chamber also released a poll of small businesses that showed only 19% of businesses plan to add jobs in the next year, little changed from the 18% that increased their payrolls in the last year. Nearly 40% of those surveyed cited either worries about what the government will do next, the requirements of the new healthcare bill or too much regulation as the number one obstacle to hiring.
But economic uncertainty by itself was the biggest obstacle for 30% of those surveyed, while lack of sales was the biggest problem for 22%.
FLASHBACK: GE Paid No Taxes Last Year

.
!
General Electric Paid No Federal Taxes in 2010
By JAKE TAPPER (@jaketapper)
THE WHITE HOUSE, March 25, 2011
The top tax bracket for U.S. corporations stands at 35 percent, one of the highest rates in the world. So how is it possible that a giant of American business, General Electric, paid nothing in federal taxes last year, even as it made billions in profit?
And should the CEO of GE, Jeffrey Immelt, be advising the president on business?
For two years, President Obama has been talking about the need for corporate tax reform, declaring that the system is too complicated and that companies pay too much.
"Simplify, eliminate loopholes, treat everybody fairly," Obama said in February.
For those unaccustomed to the loopholes and shelters of the corporate tax code, GE's success at avoiding taxes is nothing short of extraordinary. The company, led by Immelt, earned $14.2 billion in profits in 2010, but it paid not a penny in taxes because the bulk of those profits, some $9 billion, were offshore. In fact, GE got a $3.2 billion tax benefit.
"Two things are disconcerting. One is, there's disproportionate amount of profits being reported offshore. And then, even for the profits that are reported onshore, they're paying less than 35 percent," said Martin Sullivan, a contributing editor for Tax Analysts.
2010 was the second year in a row that GE recorded billions in profits and paid no taxes.
During that same period, Immelt has been a close advisor to the president on the business community, a relationship that rubs some the wrong way. Immelt serves as the chairman of Obama's Council on Jobs and Competitiveness.
In a statement, General Electric said that it "pays what it owes under the law and is scrupulous about its compliance with tax obligations in all jurisdictions." The company claims that its zero-dollar tax bill is largely a result of losses at its financial arm, GE Capital, due to the Wall Street meltdown.
White House: Immelt Advises on Jobs, Not Taxes
Today, White House spokesman Jay Carney said that the president is "bothered" by the idea that a U.S. company could pay no taxes, but he wouldn't talk about GE specifically. Carney was also quick to say that Immelt's council advises the president on job growth and not on tax policy.
"It is part of the problem of the corporate tax structure that companies hire, you know, armies of tax lawyers to understand how it works and to take advantage of the various loopholes that exist, that are legal in order to reduce their tax burden," Carney said.
When President Obama announced his decision to appoint Immelt to the unpaid advisory role on job creation in January, some critics wondered whether the move was appropriate. Under his leadership, GE laid off 21,000 American workers and closed 20 factories between 2007 and 2009. More than half of GE's workforce is now outside the United States.
http://abcnews.go.com/Politics/general-electric-paid-federal-taxes-2010/story?id=13224558