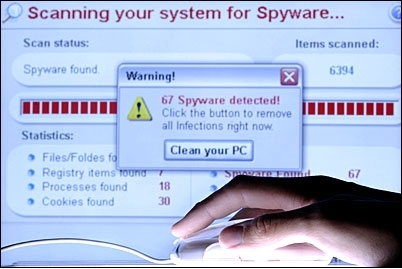 Major Internet service providers cooperating with NSA on monitoring traffic
Three of the nation's largest Internet service providers are cooperating with a new National Security Agency program to sift through the traffic of major defense contractors with the goal of blocking cyberattacks by foreign adversaries, senior defense and industry officials say.
The novel program, which began last month on a voluntary, trial basis, relies on sophisticated NSA data sets to identify malicious programs slipped into the vast stream of Internet data flowing to the nation's largest defense firms. Such attacks, including one last month against Bethesda-based Lockheed Martin, are nearly constant as rival nations and terrorist groups seek access to U.S. military secrets.
"We hope the . . . cyberpilot can be the beginning of something bigger," Deputy Defense Secretary William J. Lynn III said at a global security conference in Paris on Thursday. "It could serve as a model that can be transported to other critical infrastructure sectors, under the leadership of the Department of Homeland Security."
The prospect of an NSA role in the monitoring of Internet traffic already had raised concerns among privacy activists, and Lynn's suggestion that the program might be extended beyond the work of defense contractors threatened to raise the stakes further.
James X. Dempsey, the Center for Democracy & Technology's vice president for public policy, said that any version of the program must have protections against government access to private Internet traffic.
"We wouldn't want this to become a backdoor form of surveillance," Dempsey said.
The pilot program works by using NSA-developed "signatures," or fingerprints of malicious code, as well as sequences of anomalous network behavior, to filter the Internet traffic flowing to major defense contractors. That allows the Internet providers to disable the threats before an attack can penetrate a contractor's servers.
The Internet providers participating in the pilot are AT&T, Verizon and CenturyLink. Together they are seeking to filter the traffic of 15 defense contractors.
Partnering with the major Internet carriers "is probably the technically quickest way to go and the best way to go" to defend dot-com networks, said Gen. Keith Alexander, who heads the NSA and the affiliated U.S. Cyber Command at Fort Meade, testifying to Congress in March.
The premise behind this strategy is that combining the carriers' ability to filter massive volumes of traffic — a large carrier can monitor up to 100 gigabits of traffic per second — - with the NSA's expertise will provide a greater level of protection
without violating privacy laws.
But the initiative was stalled for months by numerous concerns, including Justice Department worries that it would run afoul of privacy laws that forbid government surveillance of private Internet traffic. Officials have, at least for now, allayed that concern by saying that the government will not directly filter the traffic or receive the malicious code captured by the providers. The Department of Homeland Security is a partner in the pilot.
.