THURSDAY, OCTOBER 14, 2010
The Washington Post
notes
:
In Georgia, an employee of a document processing company, Linda Green, for years claimed to be executives of Bank of America , Wells Fargo, U.S. Bank and dozens of other lenders while signing off on tens of thousands of foreclosure affidavits. In many cases, her signature appeared to be forged by different employees.

Green worked for a foreclosure document company owned by Lender Processing Services. The company is being investigated by a U.S. attorney in Florida for allegedly using improper documentation to speed foreclosures.

Lenders have already started to withdraw foreclosures that had Green's name on them.

Green also submitted to courts documents that listed "Bogus Assignee" as the owner of a mortgage instead of the real name. In another case, she signed as the vice president of "Bad Bene," a made-up company.

***

"There are procedures to be followed in order to get a foreclosure, and you either get it right or not. Either you're pregnant or not. There's no in-between," [Arthur M. Schack, a Kings County Supreme Court judge in Brooklyn,] said
Foreclosure attorney Lynn Szymoniak
located
numerous signatures of "Linda Green" from pleadings filed in various courts.
StopForeclosureFraud.com
has rounded up some examples of "Linda Green's" signatures in one image: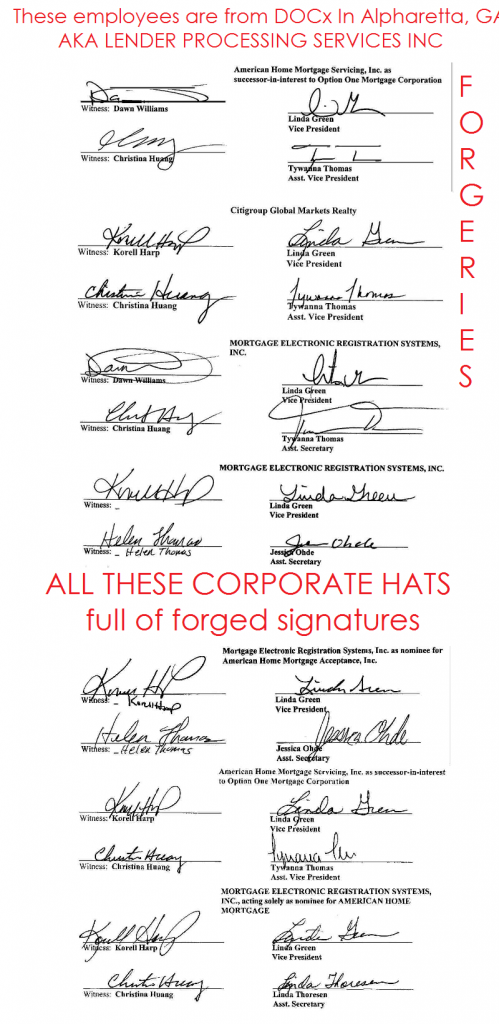 4ClosureFraud.org posted one of Green's signatures assigning title to "Bogus Assignee":
Beyond Bogus - Docx Assignment of Mortgage - Bogus Assignee for Intervening Asmts
http://www.washingtonsblog.com/2010/10/same-person-verified-billions-of.html